It's official: The U.S. won't see a housing bubble crash anytime soon
Posted by Lisa Levin on Monday, July 27, 2020 at 12:16 PM
By Lisa Levin / July 27, 2020
Comment

The housing market is back—and then some.
Despite the crippling and ongoing coronavirus pandemic, millions out of work, a recession, a national reckoning over systemic racism, and a highly contentious presidential election just around the corner, the residential real estate market is staging an astonishing rebound.
Median home prices shot up 6.2% year over year on realtor.com® in the week ending June 27, according to weekly realtor.com data. Homes are selling faster than they did in 2019, when no one had heard of COVID-19. And bidding wars are back as first-time and trade-up buyers who have lost out on other homes slug it out.
"The housing recovery has been nothing short of remarkable," says Ali Wolf, chief economist of Meyers Research, a national real estate consultancy. "The expectation was that housing would be crushed. It was—for about two months—and then it came roaring back."
It's a far cry from the Great Recession of more than a decade ago, when home prices plummeted, mortgages were plunged under water, and foreclosures seemed to appear on just about every block. But of course, the overbuilt housing market and subprime mortgages helped cause that crisis. Back then there were a glut of homes for sale and not many eager buyers. This time it's reversed.
"People are really quick today to compare today with the Great Recession," says Wolf. "But we're dealing with a different animal."
To be sure, there are plenty of danger signs ahead in this economy, including continuing historic levels of unemployment and rising coronavirus infection rates in many parts of the country. But, for now, real estate is bouncing back much quicker than other bellwether industries.
The reason: After months on hold, Americans are beginning to feel more confident about the idea of buying or selling a home.
Nearly two-thirds of consumers, 61%, said it was a good time to buy a home in June, in a Fannie Mae housing survey of 1,000 participants. That was a 9 percentage point increase from May. Roughly 41% of respondents said it was a good time to sell, also an increase of 9 percentage points from the previous month.
That optimism translated to a surge of mortgage applications for home purchases. They rose 33.2% year over year in the week ending July 3, according to the Mortgage Bankers Association.
And while the number of sales is way down, there are signs they could begin to catch up to the typical level of the normally busy summer home-buying season.
The number of sales of existing homes (previously lived-in residences) plummeted 26.6% annually in May, according to the latest data from the National Association of Realtors®. However, pending sales, which are purchases that haven't closed yet, surged 44.3% from April to May. They were down only 5.1% compared with 2019.
So what's driving this surprisingly hot market? There's a slew of culprits.

Shortage of homes for sale, low mortgage rates driving home price hikes
Home prices are climbing right back up, despite the recession, for one big reason: There is a severe shortage of homes for sale. That's great for sellers, but not so great for buyers.
Home listings are down 31% annually in the week ending July 4, according to realtor.com data. That's roughly a third less inventory than last year—when there was already a shortfall in available homes. In fact, before the pandemic, there was a shortage of roughly 4 million homes—and that's a conservative estimate, says realtor.com Senior Economist George Ratiu.
Throw in a health crisis that spooks sellers from listing their properties, hundreds of thousands of construction jobs disappearing this spring, and a pause in building in most areas, and suddenly the gap between a very limited supply and strong demand from would-be buyers becomes a chasm.
"The number of buyers in the market far outstrips the number of homes available," says Ratiu. That leads to higher prices—even amid a recession and the worst U.S. public health crisis in a century.
Another major reason for the housing market's rebound is the record-low mortgage interest rates, a siren song for buyers on a limited budget. Some of the most qualified borrowers are scoring rates just south of 3%, which is low enough to potentially shave more than a hundred dollars off a monthly loan payment and tens of thousands of dollars off the life of the mortgage.
"People are thinking, 'I'll never see a rate this low again,'" says Rocke Andrews, president of the National Association of Mortgage Brokers. He's also a mortgage broker at Lending Arizona in Tucson.
The average mortgage rate fell to 3.03% for 30-year fixed-rate loans in the week ending July 9, according to Freddie Mac. That's the lowest they've been since Freddie began tracking rates in 1971.
"We basically have free money right now," says Meyers' Wolf. "Even as prices go up, the price gains are offset by the continued drop in mortgage rates."
The low rates may also make it cheaper to buy than rent in some markets—provided buyers have pulled together the down payment, says economist Gay Cororaton, director of NAR's housing and commercial research. The economic uncertainty right now may have also made folks want to lock in their housing costs, so they're not affected by rising rents.
"If you're a white-collar worker who didn't get laid off and you have savings, the math works for you," says Cororaton.
Why there are so many buyers in the market
There's an awful lot of pent-up demand from buyers who were stymied by the novel coronavirus in the spring. These are the folks who were forced to postpone their searches in March, April, and May. Some are first-time buyers with growing families who need the extra space pronto.
They're now back in force, competing with those who had planned to buy in the summer—along with the city folks suddenly seeking a single-family home of their own, a more spacious abode with a home office (or two), and outdoor space.
"They've been at home for months, and they're going, 'If I'm going to spend the next six to 12 months working out of my house, I need a bigger house,'" says mortgage broker Andrews.
It's also easier today to take care of much of the lending and home-buying process online—where you don't have to worry about contracting the virus, says Jim Gaines, chief economist at the Real Estate Center at Texas A&M University.
Surprisingly, even with the worst unemployment since the Great Depression, nationally topping 11% last month, the majority of working Americans have held on to their jobs.
Many higher-paid workers—the ones with the means to buy homes—have been relatively insulated from much of the carnage. Lower-wage workers (e.g., bartenders, restaurant servers, and retail employees) were harder hit by the furloughs and layoffs. Roughly 39% of workers with household incomes below $40,000 lost their jobs in March, according to a Federal Reserve report from May. These were folks who had been working in February.
Many of those still-employed workers with good-paying jobs have even boosted their savings, making it easier to cover down payments and closing costs. After all, they're not spending as much on vacations, clothes, or restaurants due to the pandemic. Many have also been able to stash away their stimulus checks.
"You defer your student loans, you received a stimulus check, you're not going anywhere, and all of a sudden you have a down payment," says Wolf. "You only need a 3.5% for some mortgages."
Could home prices eventually fall?
Buyers shouldn't expect deep discounts during this recession—at least not yet. Unlike the Great Recession, a flood of foreclosures isn't expected to hit the market, bringing prices down.
This time around the federal government offered homeowners with government-backed loans (just over half of loans) mortgage forbearance to stave off another foreclosure crisis. Many private lenders followed the government's lead.
The forbearance is good for up to 12 months. It also allows borrowers to work out repayment plans and tack on missed payments to the end of the loans.
Prices could flatten or even dip if there is a surge in foreclosures following the end of the forbearance period, says Wolf. Mortgage rates shooting back up into the 4.5% and 5% range could also slow—or even halt—their climb.
"Home prices don't fall just because," says Wolf. "There needs to be a catalyst or some kind of imbalance."

Click Here for more information
It's official: The U.S. won't see a housing bubble crash anytime soon
After holding out for July 15 housing data, HousingWire's housing data analyst is making the call
Ernest Rutherford, the father of nuclear physics is attributed to saying, "All science is either physics or stamp collecting."
To paraphrase Rutherford for economics models, if models don't include demographics and productivity, they might as well be stamp collecting. As it turns out, we have a lot of philatelists in housing economics – I call them the housing bubble boys.
The U.S. economy started the year off in an expansionary mode. Retail sales were positive year over year, job openings were roughly at 7 million and the housing data for the first time in a long time started to outperform other sectors of the economy. Existing and new home sales hit cycle highs, purchase application data showed steady double-digit year over year growth and housing starts had almost 40% year over year growth in February.
Then we were hit with COVID-19, and the fear of this virus along with the economic decline due to the stay-at-home orders whipped the housing bubble boys into a frenzy of crash calls.
My long-standing core thesis has been that the housing market would have the weakest recovery from a crash in the years 2008 to 2019, but it would improve in years 2020-2024 because U.S. demographics would become favorable for housing.
This is the time frame where we should see 1.5 million total housing starts and the purchase application index will get over 300. When the COVID-crisis hit, I had to either believe in my economic models or raise the white flag and admit that in these circumstances, anything goes.
I chose to stick to my model, which states that for housing, it is demographics and mortgage rates that calls the show. Based on my model, I told everyone to wait until July 15 before drawing any conclusions about the imminent demise or survival and recovery of the housing market.
I wrote this on April 10, 2020:
"My advice is to take the next three months of housing data and put a giant asterisk on all of it. Wait until July 15. By that time, we have a lot of questions answered, and we will be getting the June existing home sales report soon after that."
Let's just say the five things I talked about in that article was a heads up to my fellow bearish friends that not only were they wrong with crash calls for the last seven years, but a lot of things would need to happen to have a housing crash in 2020.
I highlighted July 15 because if my AB economic model worked, then we would have gotten better news of the virus by May 18. This would mean that in the 30-60 days after that housing would be fine because without lockdown protocols in place, demographics and low mortgage rates would fuel homebuying.
Over the next few weeks, we get June's data. This is where we should start the housing conversation all over again. Now, we are entering Act 4 in 2020 for housing, and it's time to let go of this crash thesis. The reality is this: it wasn't going to happen in 2020 even with a pandemic virus. If you want some ideas of what it would take to trigger a housing downturn in 2020, here are some from me.
What recent housing data looked like:
The Mortgage Banking Association purchase application data for the last seven weeks on a year-over-year basis look like this:
+18%, +13%, +21%, +18%, +15%, +33%, +16%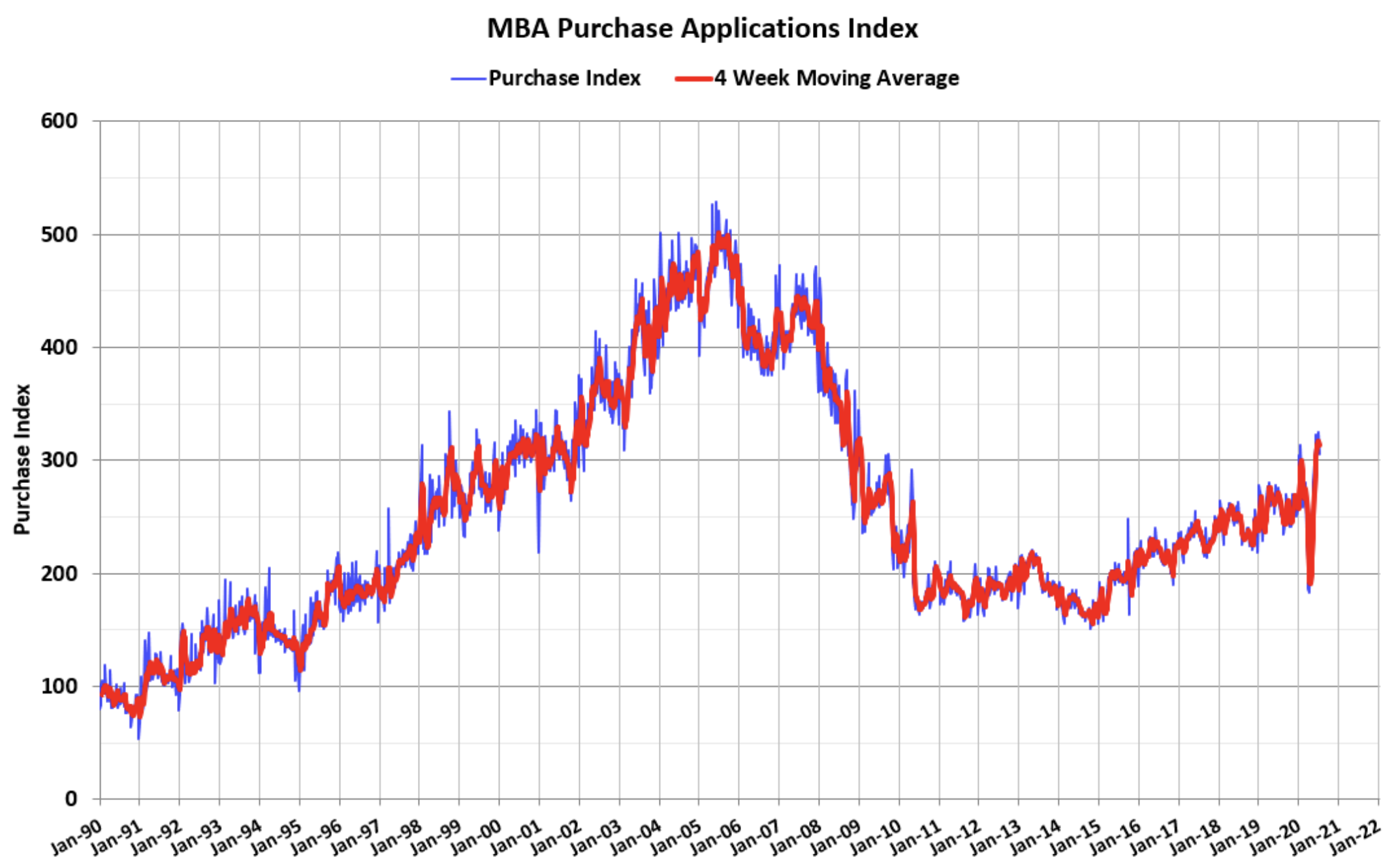 The most recent pending home sales were up 44% month to month.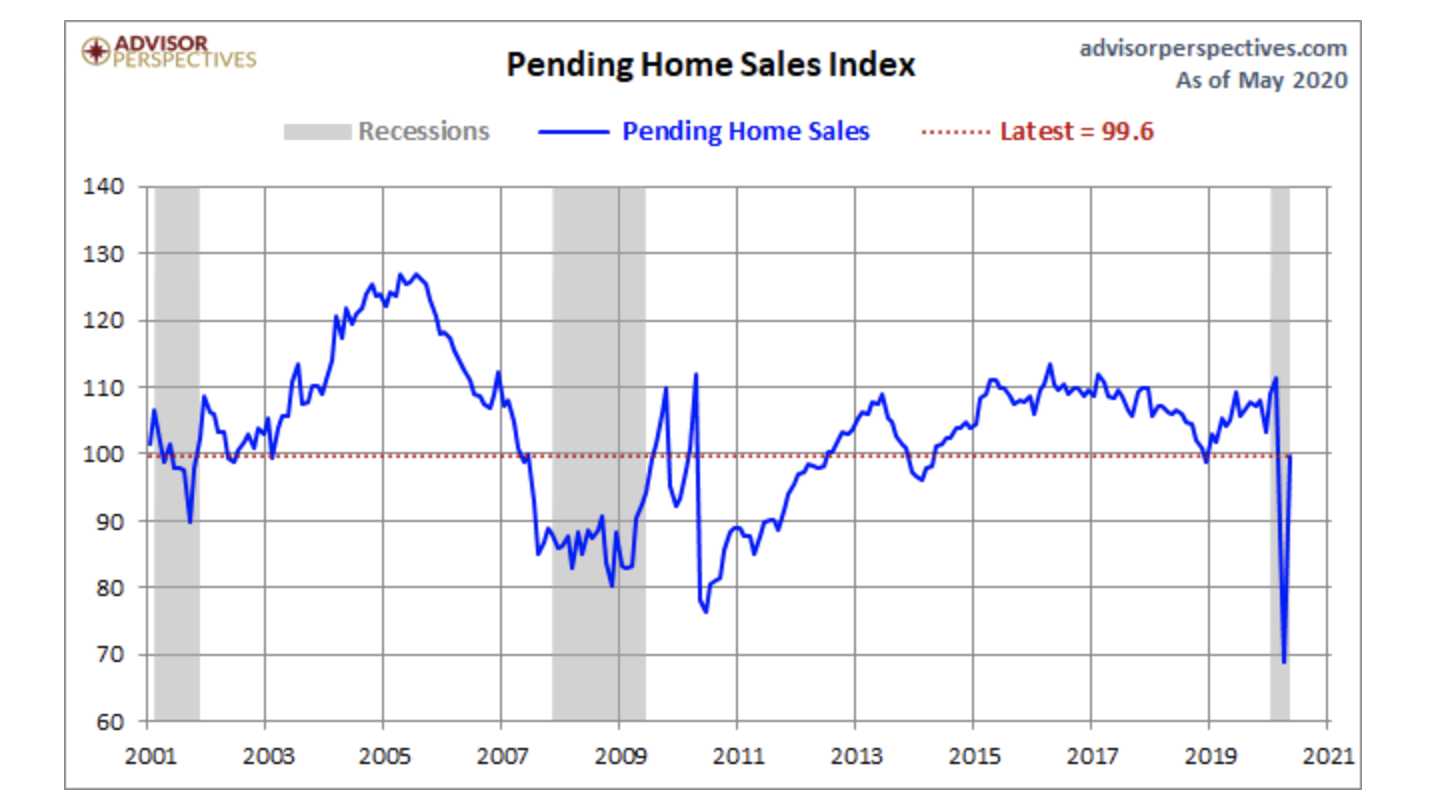 Purchase application of new homes up 54% year over year, according to MBA.
At some point in the future, home prices will fall and sales will decline year over year, but even when this happens it will not constitute a bubble crash anytime soon.
Today, we are on an upswing. The U.S. housing market is undergoing a V-shaped recovery, but until existing home sales hit 5,770,000 again, the full recovery in existing home sales will not be complete as that was the number we hit earlier this year
My predictions of an economic recovery (what I called by AB economic model) was on target until this latest surge in new COVID-19 cases.
Alas, I didn't account for the emergence of a political movement built around not protecting oneself and one's family from illness.
My recommendation, even with the new increase in COVID-19 cases, is to start a conversation regarding the future of the housing market all over again to refocus on the factors that really matter: demographics, mortgage rates and the national progress to conquer this horrific virus, reopen the economy and get people working again.
As long as purchase application data stays flat to positive on a year-over-year basis, housing will be fine in 2020.
We have a lot of work left to do in this country. In the meantime, let go of the bubble crash thesis, because the reality is it wasn't going to happen in 2020, even with a pandemic.
Click Here for more information