Water Restrictions in California - Information from the Calabasas Town Hall Meeting
Posted by Jeff Biebuyck on Wednesday, May 25, 2022 at 6:34 AM
By Jeff Biebuyck / May 25, 2022
Comment
Many of us in California are very well acquainted with the various drought seasons in California. In fact, many of us would probably agree that it has gone on far too long. The current drought conditions are in their third consecutive year, and recently there have been significant water restrictions placed on Californians.
The City of Calabasas had a Town Hall meeting recently where the Las Virgenes Municipal Water District detailed the reasons behind the current water restrictions and where we stand compared to previous years. While they mentioned California had our driest 3-month stretch between January to March of this year since record-keeping began, we wanted to showcase this graph that they shared for some context.
Historically speaking, 2022's total precipitation is slightly below average but not quite as low as 2019-2020 and 2020-2021. As you can see from the below graph, we are still within the 30-year average, albeit slightly lower than the 2018-2019 Daily Precipitation rate. In 2016-2017 and 2018-2019, the average yearly precipitation rate was over 70%. Throughout the past few years, the main contributors to the current drought situation are below-average snowpack, record high temperatures, and runoff that did not materialize. As a result, major reservoirs are below average levels, leading to significant impacts on urban, agricultural, and environmental uses.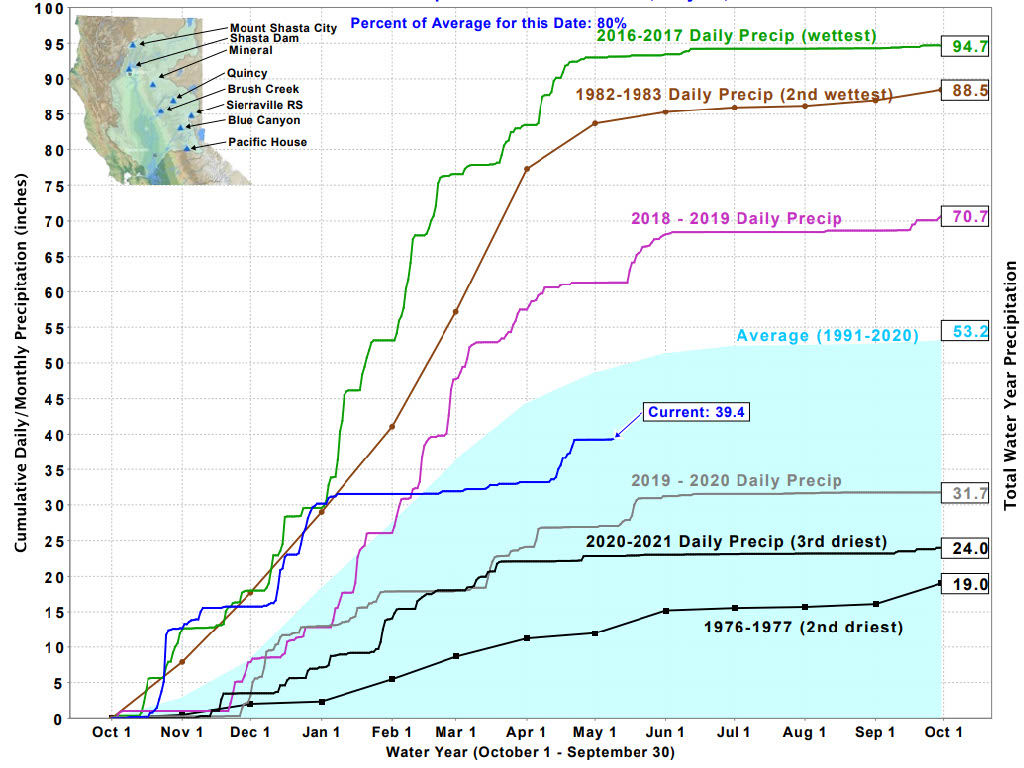 On November 2, 2021, the District Board declared a local drought emergency and Stage 3 - Water Shortage Emergency. What does this mean for residents of Calabasas?
It means we are required to significantly reduce the water we are using, both in our houses and to irrigate our lawns. The New Measures that the Board is looking to adopt include
One Day Per Week Irrigation System watering starting June 1, 2022, pending Board adoption on Tuesday, May 17
○ Tuesdays only: Property addresses ending in 0, 2,4,6,8
○ Thursdays only: Property addresses ending in 1,3,5,7,9
No Irrigation of non-functional turf on commercial, industrial and institutional properties using potable water
District's flushing from hydrants (fire flow tests) and water mains for clearing the lines: Water must be captured and beneficially reused to the greatest extent possible
The below image was taken from the recent Calabasas Town Hall meeting.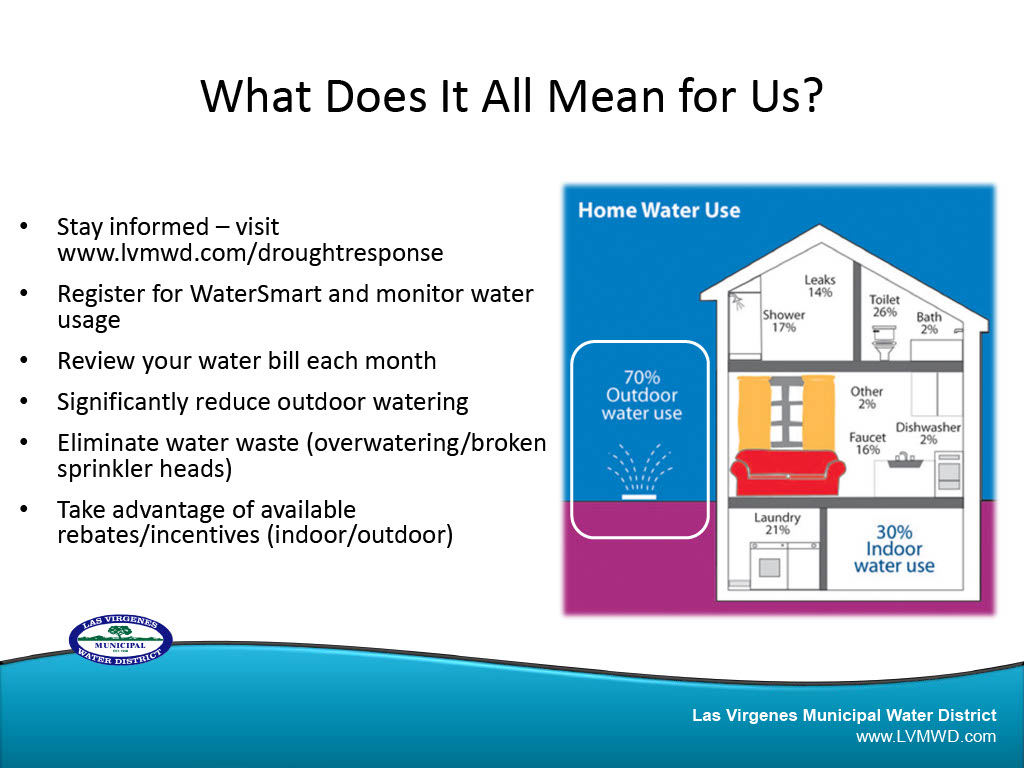 The best thing we can do as a community is to stay informed and reduce our consumption as much as possible. To stay informed, visit www.lvmwd.com/droughtresponse. The next thing we need to do is to Take "Control" of your Irrigation Controller with the following steps suggested by the Las Virgenes Water District:
Find the controller
Replace with a new battery if not done w/in the past 6 months
Make sure the date/time is set correctly
Disable/erase existing schedules
Set runtime to either Tuesday or Thursday watering only, depending on your street address
Set each station to no more than 8 minutes each
If Rachio – set to "fixed schedule" for one day, watering 8 minutes maximum. Make sure to disable the existing Flex Daily or Flex Monthly setting.
The full video of the Town Hall presentation can be viewed below.
Click here to access the full presentation of slides that include additional information about enforcement and HOA restrictions.
Click here for a full list of questions and answers from the recent Calabasas Town Hall meeting.
Know your Controller