Wallis Annenberg Wildlife Crossing Broke Ground Friday, April 22, 2022.
Posted by Jeff Biebuyck on Monday, April 25, 2022 at 8:27 AM
By Jeff Biebuyck / April 25, 2022
Comment
The long-awaited Wallis Annenberg Wildlife Crossing officially broke ground Friday, April 22, 2022, causing several road closures in Agoura Hills.
The Wallis Annenberg Wildlife Crossing is a planned vegetated overpass spanning the Ventura Freeway and Agoura Road at Liberty Canyon. The bridge will be one of the most significant urban wildlife crossings in the United States, connecting the Simi Hills and the Santa Monica Mountains over a busy freeway with ten traffic lanes, including exit lanes.
The Wallis Annenberg Wildlife Crossing promises to be one of the most innovative wildlife crossings in the world. The project itself has been in development for almost a decade, and we are just now starting construction, a full three years before they originally planned to.
The Santa Monica Mountains is an essential home for native wildlife, but the Ventura Freeway has become one of their barriers. These mountain lions cannot easily cross into southern California's Simi Hills because the freeway acts as a barrier between them and other areas, reducing numbers significantly. According to National Park Service records, 12 have been struck dead by vehicles on these sections since 2002, when they started studying animal collisions with cars. The Santa Monica Mountains have been a genetic isolate for many years because there is not enough diversity in their population. This means that if nothing changes, all possible options will be exhausted, leading us toward the extinction of these mountain lions and other wildlife in the area. Newcomers would bring new genetic material into this area where the lack of variation poses severe threats to long-term survival.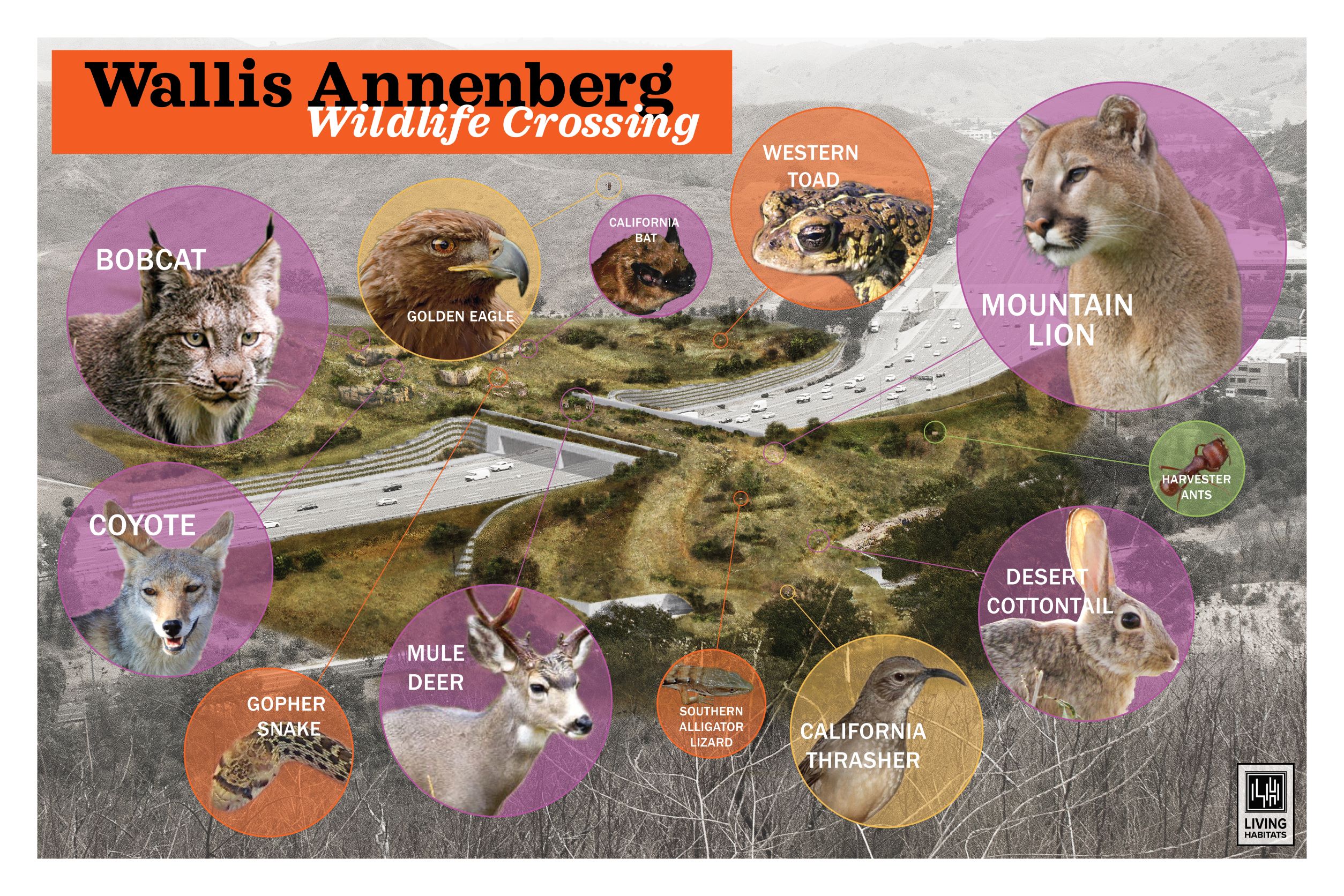 Scientists have identified the best location for a wildlife crossing along Liberty Canyon because it is situated within one of California's largest national parks. The Santa Monica Mountains National Recreation Area includes publicly owned and protected acres, making this spot ideal for establishing connectivity between two large suburban areas with growing populations: Los Angeles County and Ventura county.
The County of Ventura has adopted a new wildlife corridor protection ordinance that will restrict certain activities to help prevent obstruction along the path connecting Santa Monica Mountains with Los Padres National Forest. This is an important step forward for species preservation and connectivity on our highways!
While the project is highly anticipated, it will cause traffic obstructions in Agoura Hills beginning Friday, April 22, 2022.
*** Images from Living Habitats/National Wildlife Federation.