The Rise of Ancillary Living Spaces in Estate Homes
Posted by Jeff Biebuyck on Thursday, December 9, 2021 at 9:21 PM
By Jeff Biebuyck / December 9, 2021
Comment
In today's new world of social distancing, the landscape of work environments has shifted where work and creativity has found it's way into residences across the globe- and estate homes are no exception. As families and individuals alike merge their work and school demands into their primary homes - demand for ample square footage, privacy, and versatility within their living space has grown to an all time high. Ancillary living spaces are now at the forefront of estate living and have found their way into larger estate homes that provide the luxury of space and variety as many retreat into their private homes.
What is an Ancillary Living Space?
Ancillary spaces are spaces that help support the main function of a building. Traditionally in an office setting, ancillary spaces are communal, unassigned spaces that can include areas like lounges, outdoor living spaces, private enclaves, and a variety of collaborative spaces.
The modern home office is now considered an ancillary living space- a multipurpose room that can be used for work, relaxation and/or entertainment. The key to making this type of living space work for you is to make sure the design is functional and comfortable.
Because of Covid 19, college students and young adults are returning home after leaving the nest to live with their families while taking online courses or working remotely. As a result, there has been an increase in ancillary living spaces found within homes.
The elderly are now moving in with family vs nursing homes.
- The number of people aged 85 and older is projected to more than double by 2050, from about six million now to 14 million.
- The percentage of elderly Americans who live with family members has increased from 28 percent in 1990 to 43 percent in 2010.
- The average stay in a nursing home has increased from about two years in the 1970s to more than three years today.
- The annual cost of a private room in a nursing home is now more than $87,000, and the average monthly cost for a shared room is more than $6000.
The rise of ancillary living spaces allow elderly to live with family and have their needs met without the high cost of a nursing home.
When designing your ancillary living space, start by thinking about how you will use the room. Will it be your primary work space or will you only use it for occasional tasks? If it's your primary work space, do you need a lot of storage for supplies and files? Do you need a desk that can be easily adjusted to different heights or one with multiple surfaces so you can multi-task easily? Will you need to fit multiple people in the room for meetings or will it only be used by yourself on most days? The type of design and layout that works best for your daily routine should inform the way you choose seating, storage options and lighting.
If this space is going to double as a guest bedroom or entertainment area, make sure the design is conducive to these activities. The last thing you want is a chair that isn't comfortable for overnight guests or built-ins that are difficult to navigate around while hosting large gatherings. The best way to make sure this space works for your multi-purpose needs, whether it be work related or entertainment purposes, is by carefully considering the layout and design.
Functional, comfortable and versatile- these are the key features of an ancillary living space that will make your work and home life easier. By taking the time to design your space thoughtfully, you can create a room that is perfect for your needs.
Ancillary Space in A Hidden Hills Estate
The private wing of 25045 Jim Bridger Road in the prestigious Hidden Hills is a perfect example of ancillary living where the private enclave can serve a multitude of purposes from guest living quarters, private library, craft room, and many other endless possibilities for businessmen, entrepreneurs, stay at home parents, and hobbyists alike.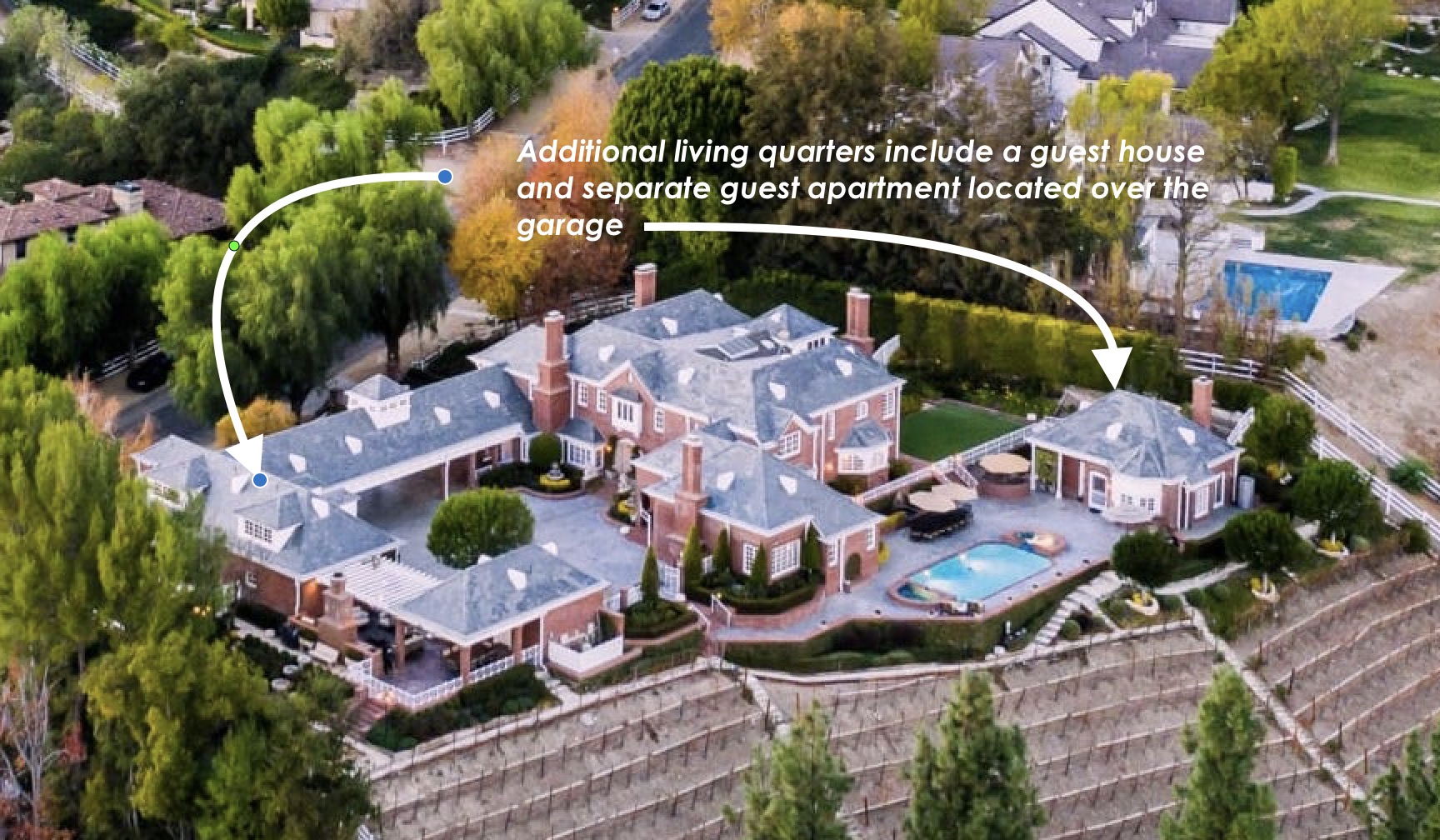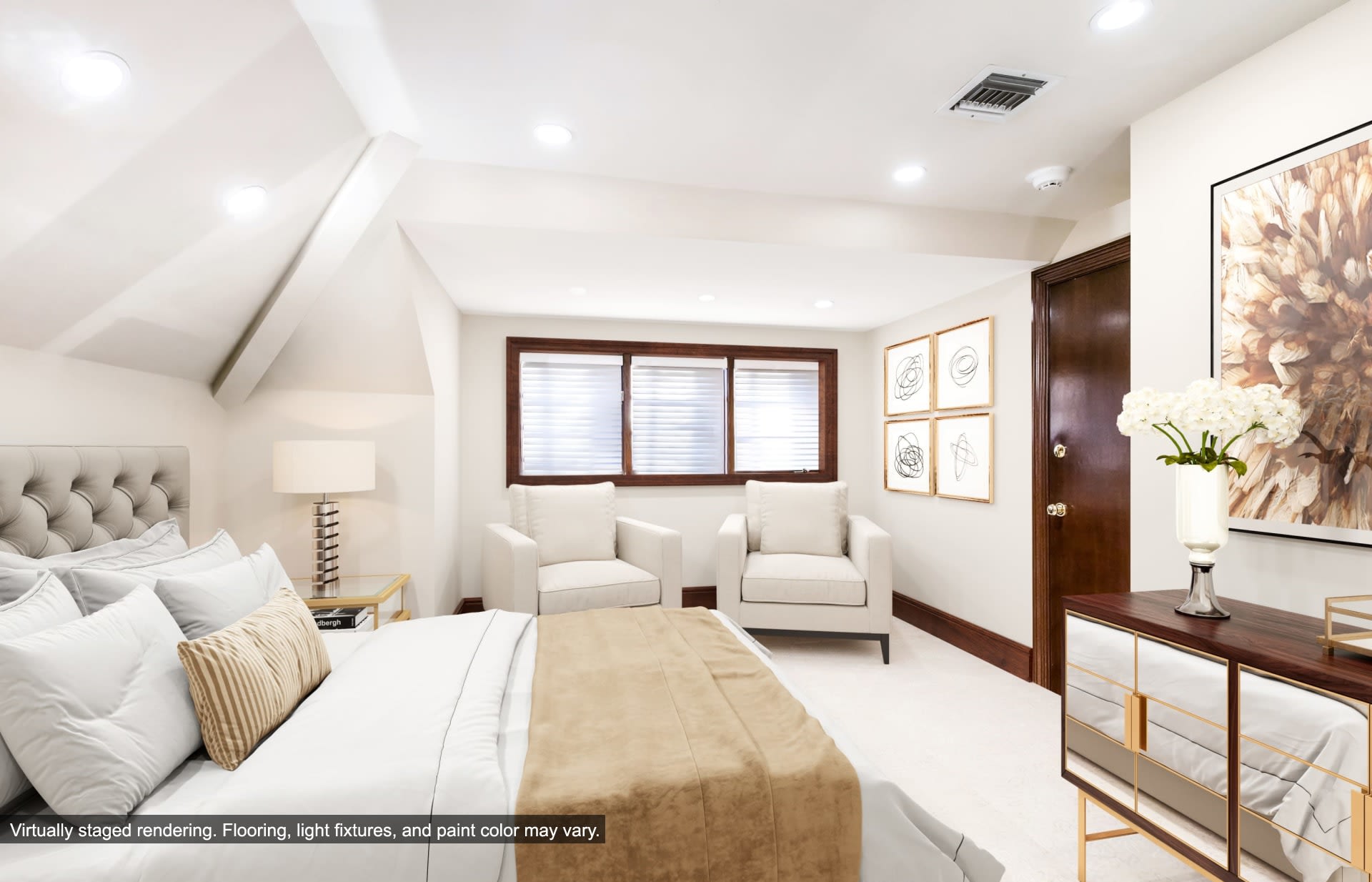 25045 Jim Bridger Road has a guest apartment or workspace with a separate entrance above the garage. Also, a one-bedroom guest house adjacent to the pool
The Future of Work and Home Living Spaces
The demands of commuting and working within commercial buildings have slowed in today's global business scene. At Frontgate Real Estate, we are seeing a variety of residences and buyers alike looking to find reprieve in homes that serve a wide variety of utility in our ever-changing world. From musical artists creating vanity spaces and recording studios, to functional estate home office spaces for work from home entrepreneurs- the utilization of private homes and estates to achieve collaborative work, propel creativity, and cultivate the complex family demands within their own private enclaves will continue to grow.