The Best Gas Grills For Superior Backyard Barbecues
Posted by Lisa Levin on Friday, July 10, 2020 at 3:36 PM
By Lisa Levin / July 10, 2020
Comment
The Best Gas Grills For Superior Backyard Barbecues
I've been a grilling enthusiast for as long as I can remember. But being completely devoted to charcoal for many years, I was late to discovering the wonder of the gas grill. I still love grilling with charcoal, especially while camping, but since starting a family almost seven years ago, I've switched over to cooking on a gas grill. Why? Because the best gas grills are much more efficient than their charcoal counterparts, and are much easier to use.
When picking out a gas grill, there are a few basic factors to consider. The first factor is fuel. If you can hook up to a hard line of natural gas, then you won't ever have to worry about replacing propane tanks, which can be cumbersome to stock up on, but a necessary added step.
Then you'll want to consider grill size. If you plan on cooking a lot of food at once, you'll likely need a model with 1,000-plus square inches of total cooking area. If, on the other hand, you're only looking for something to cook a few burgers and hot dogs, then a smaller two-burner grill will likely be enough. And when considering your options overall, don't forget about a top shelf, which easily adds to your total cooking area.
Next, there are special features, like a rotisserie kit, side burners or cabinet storage, and other smaller details, like fold-down shelves and accessory hooks. They're all there to improve the grilling experience, but be honest with yourself about which you think you'll really use.
Lastly, there's price. While there are a number of good gas grills you can get for well below $500 (many on this list), if you're looking to invest in something bigger with lots of features that will last for years, you'll probably need to set your budget closer to $1000.
With all those factors in mind, here are the best gas grills for summertime barbecuing and beyond.
---
Best Gas Grill Overall
Weber Spirit II E-310 Gas Grill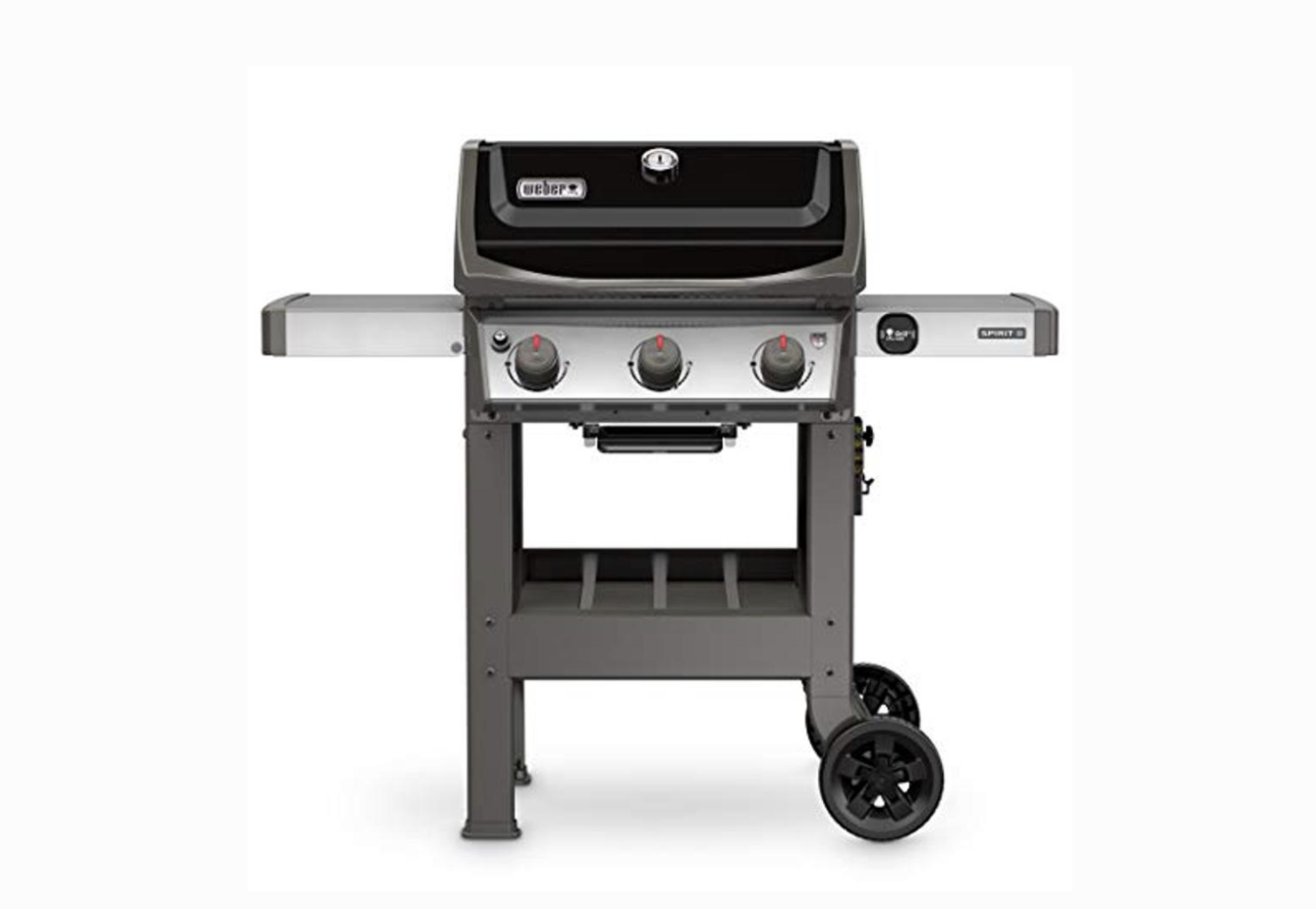 ---
At the time of this review, this grill has a 4.5-star overall rating on Amazon with well over 1,000 reviews posted. Home Depot customers have given it a 4.7-star rating with well over 7,000 reviews posted. If you want a simple, reliable gas grill that's priced fairly and will last for years, this is the one for you.
It has nearly 530 square inches of cooking space, each of its three burners produce 10,000 BTUs, and it's easy to clean and maintain, too, thanks to easily removed components and a grease catcher under the grill. There aren't any fancy extras here, like side burners or a rotisserie system, but it has the accessories you expect, like fold down side tables and tool hooks.
---
Best Easy-to-Use Gas Grill
Cuisinart Two Burner Gas Grill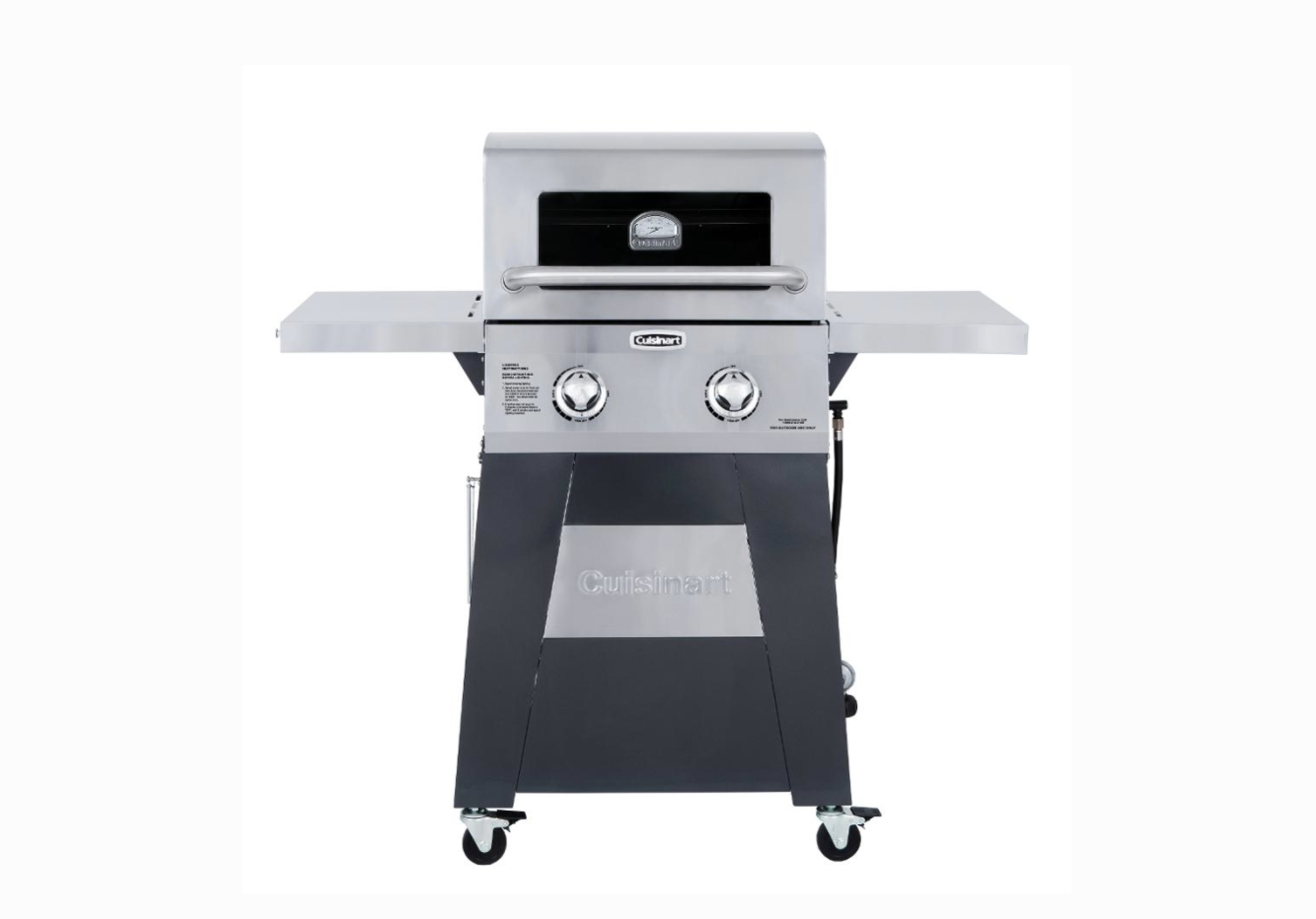 ---
If you aren't exactly what friends would call a grill master, and you simply want a way to do some easy outdoor cooking this summer — without any bells and whistles — then this little, low-cost grill is the one for you. It has two burners, each of which is independently ignited, so you don't have to worry about any complex multi-step ignition process. It has a thermometer front and center so you can monitor interior temperatures. And it even has a "why don't they all have that" brilliant feature in the form of a glass viewing window that lets you check on your food without heat release. The primary cooking space is just over 375 square inches and the secondary rack adds 125 more, so it will be just fine for the average family of four.
---
Best Large Gas Grill
Broil King Baron S590 Gas Grill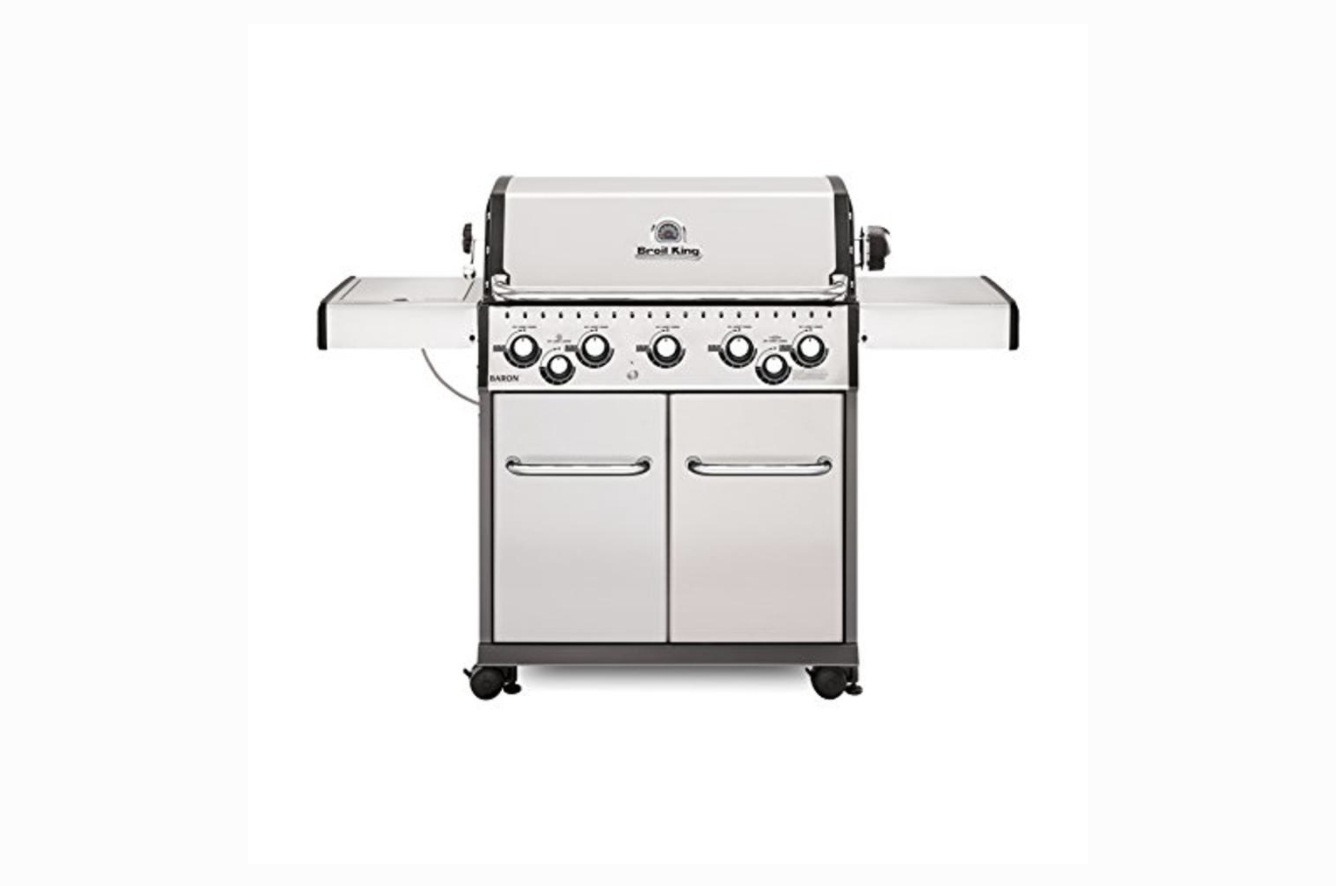 ---
This grill has an expansive primary cooking surface measured at 555 square inches. That's enough space to grill two dozen burgers at once and still have room for a few franks. Add in the additional 250-plus square inches of the upper rack, and you could easily use this grill to slow cook five full racks of ribs at the same time. Its special features include a 10,000 BTU side burner that's more powerful than the average stove burner, and there's a 15,000 BTU rotisserie burner that works with the motorized spit and rod.
This is frankly more grill than most people will need, but its price makes it well worth consideration anyway. Having had a Broil King Baron in my own back yard for the better part of a half-decade (and having agonized over the choice before we got it), I can say from personal experience that these are simply excellent grills.
---
Best Compact Gas Grill
Member's Mark 3 Burner Gas Grill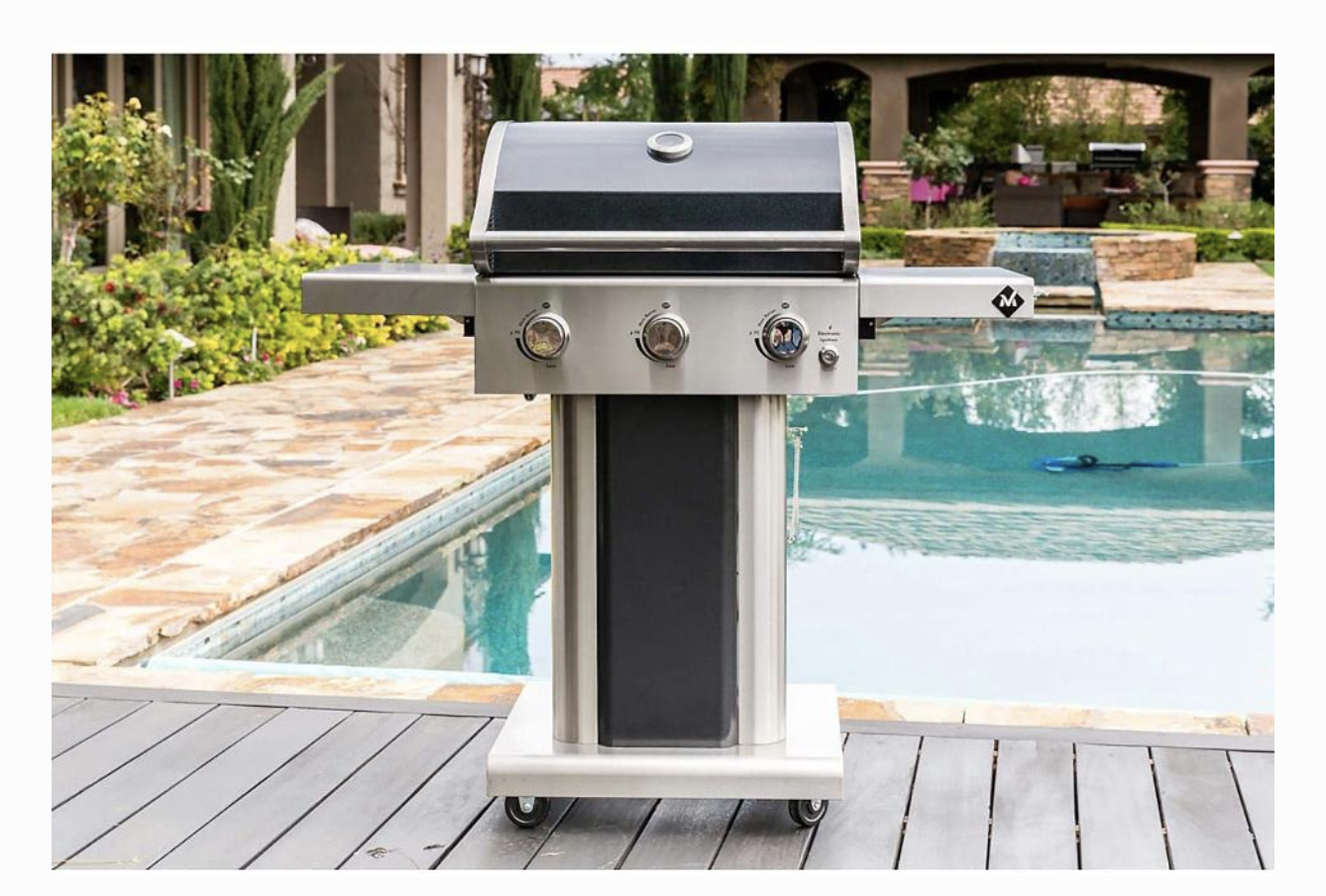 ---
To be clear, this is not a small grill, it is a compact grill. The clever use of space here allows for a just over 550 square inches of total cooking space in a grill that only takes up about 3.75 by two feet of square space, and that's with the folding shelves up and extended — with those down, this grill takes up all of four feet of square feet, so it's perfect for small patios, decks or balconies, or for homes where the grill will be stored in a garage or shed when not in use, a process made easier by four swiveling casters and its relatively light weight of 75 pounds. The overall output of 30,000 BTUs and precision heat controls allow for fast searing of steaks, slow cooking of roasts, and plenty in between.
---
Most Affordable Gas Grill
Expert Grill 3-Burner Gas Grill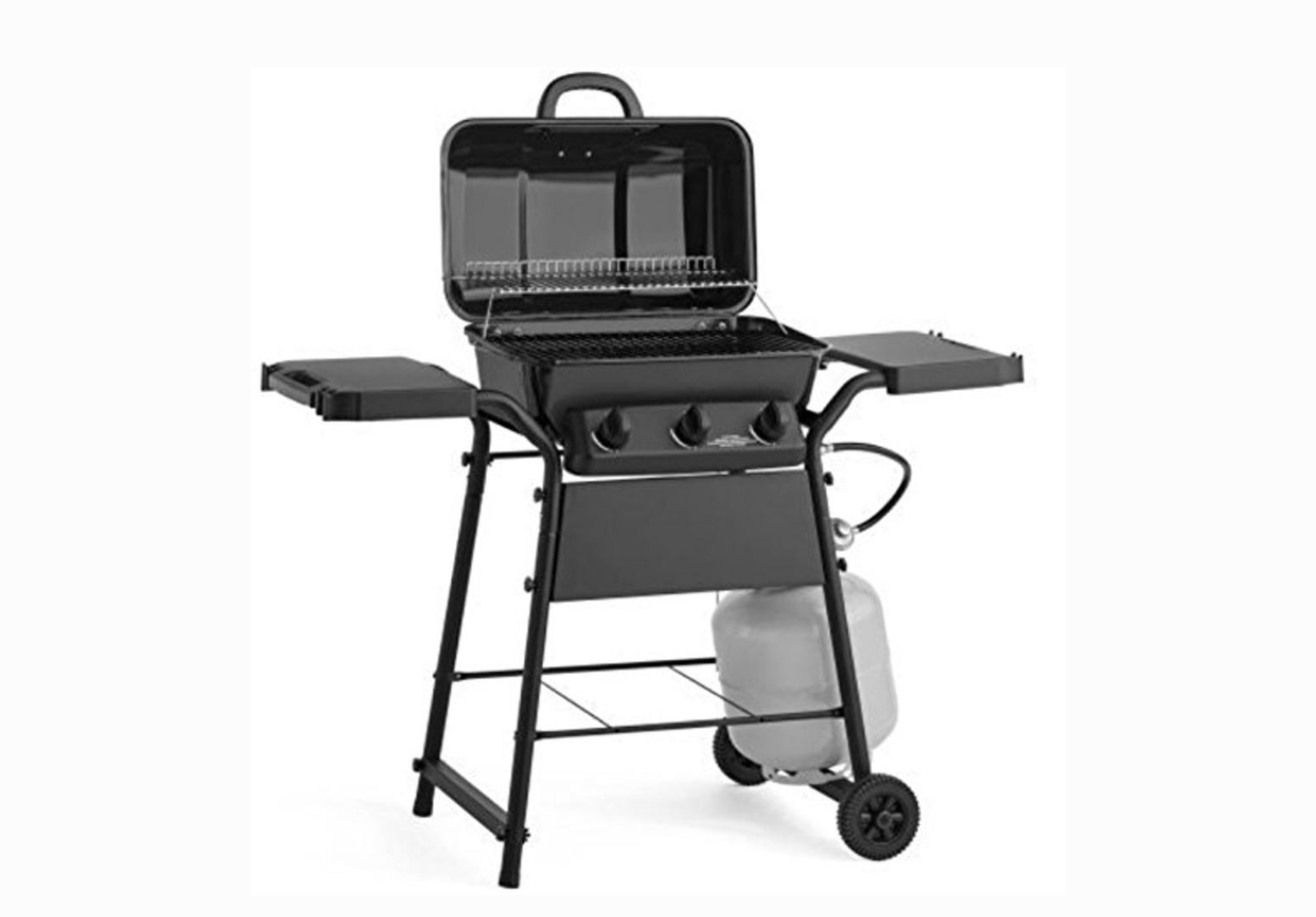 ---
Let's not beat around the bush: this is not the handsomest grill ever made. But for less than $200, it's kind of a thing of beauty, if looks are only skin deep. The grill has 300 square inches of primary cooking space, more than enough for a dozen burgers, and uses three steel tube burners with a 9,000 BTU rating each, so it can bring the heat. And while it's not designed for camping or tailgating per se (as are grills that fold easily), this thing weighs less than 40 pounds, so you could easily bring it along to the campsite, lot, field or beach.
---
Best Large Natural Gas Grill
Napoleon Prestige PR500RSIB Natural Gas Grill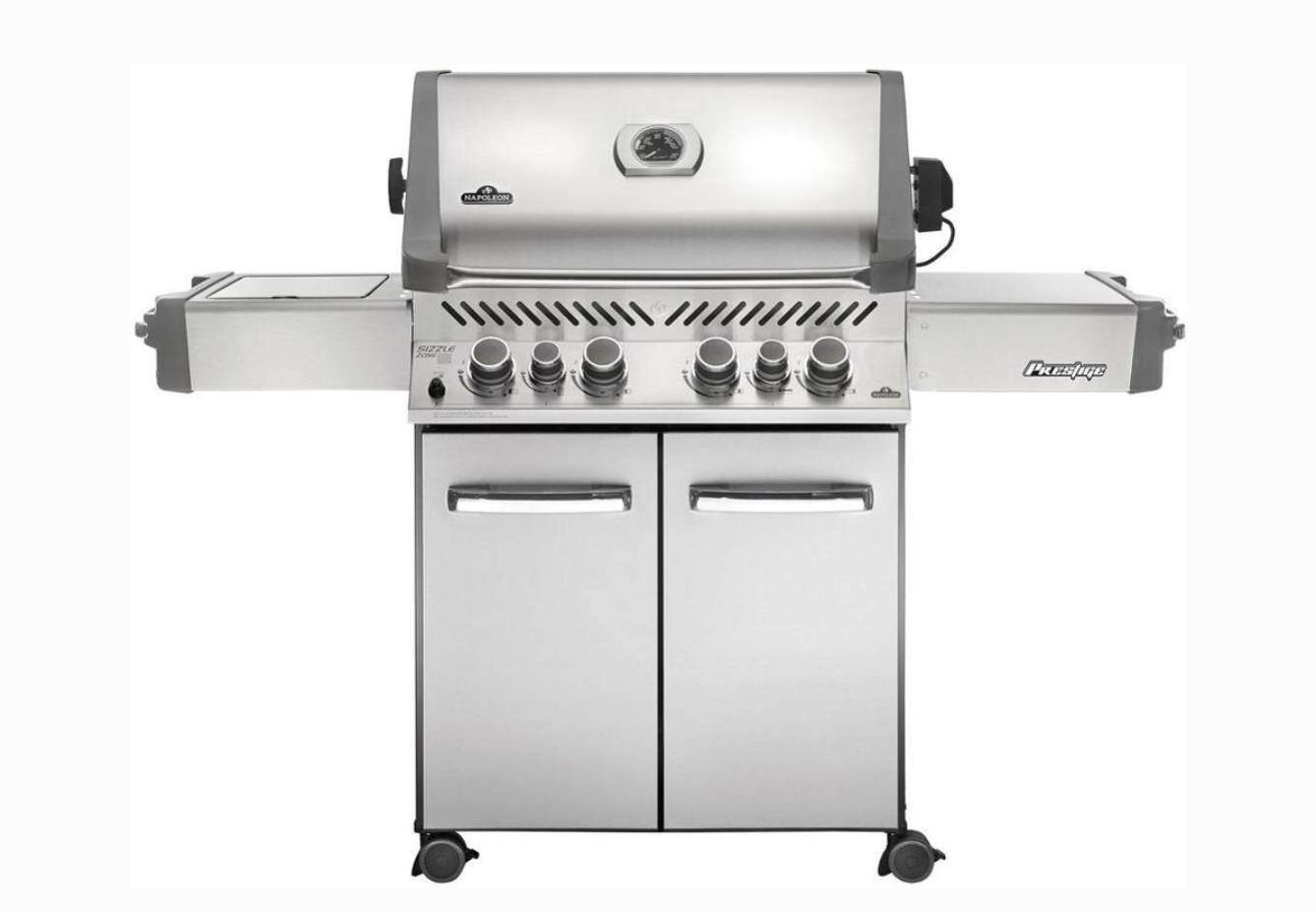 ---
Sometimes, it's the little things. For example, all of this grill's control knobs have blue, LED lights, "a nice feature for night time grilling," says Meathead Goldwyn, chef, author, professor, and noted BBQ expert. Other times, though, it's the big things, like this grill's impressive 900 square inches of total cooking space and the four 12,000 BTU burners. Versatility is also always a great feature, and in this case there's plenty of that. Goldwyn notes how "the rotisserie burner is stainless steel and the unit comes with a rotisserie motor, spear with a counterweight, and two forks" and how it can be used with a cast iron insert that can hold charcoal, ideal if you want to aroma and flavor produced by a charcoal grill with the easy lighting of gas.
---
Best Gas Grill For Taking on the Road
Coleman RoadTrip 285 Portable Stand-Up Propane Grill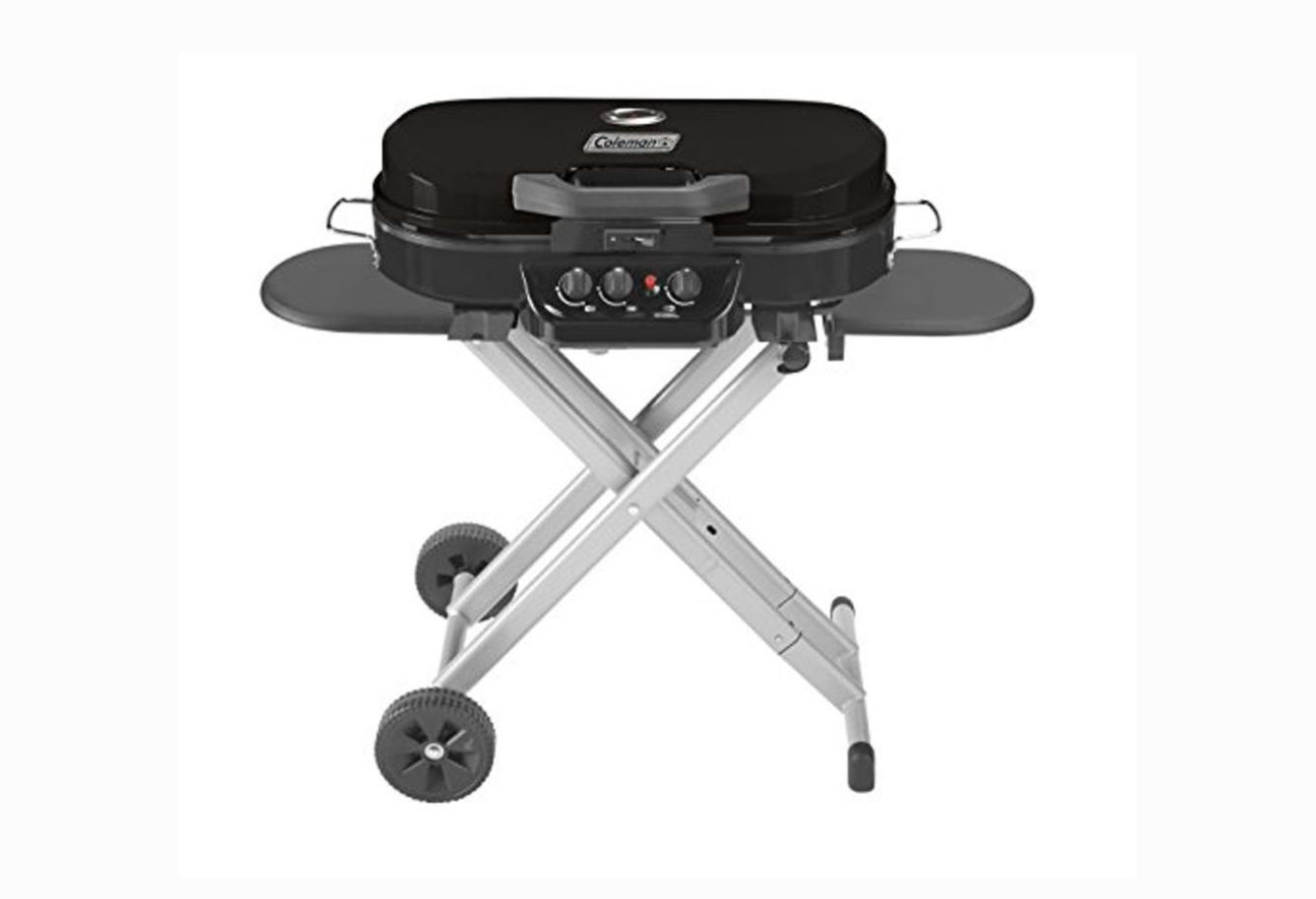 ---
If you want to take your grill on the road, this is the one to consider, and I should know, having brought it along on many family camping trips and to the houses of friends and relatives. Perfect for the campsite, tailgating party, beach or BBQ in the park, this grill can accommodate up to 18 burgers or two-dozen dogs on its 285 square inches of cooking space, yet folds down small enough to fit in the trunk of just about any car.
The burners light up with a push-button system while two slide-out side tables can accommodate your spatula, sauces or beer while you're cooking. A thermometer on the hood lets you track internal temperature, and a pair of large wheels make it easy to roll the grill back to the car when the cookout or campout is over. Cleanup can be rather involved if you cooked greasy foods or there was a melted cheese situation, but it's easy to take the thing apart and reassemble it later.
---
Best Dual Fuel Gas and Charcoal Grill
Dyna-Glo Dual Function Propane Gas and Charcoal Grill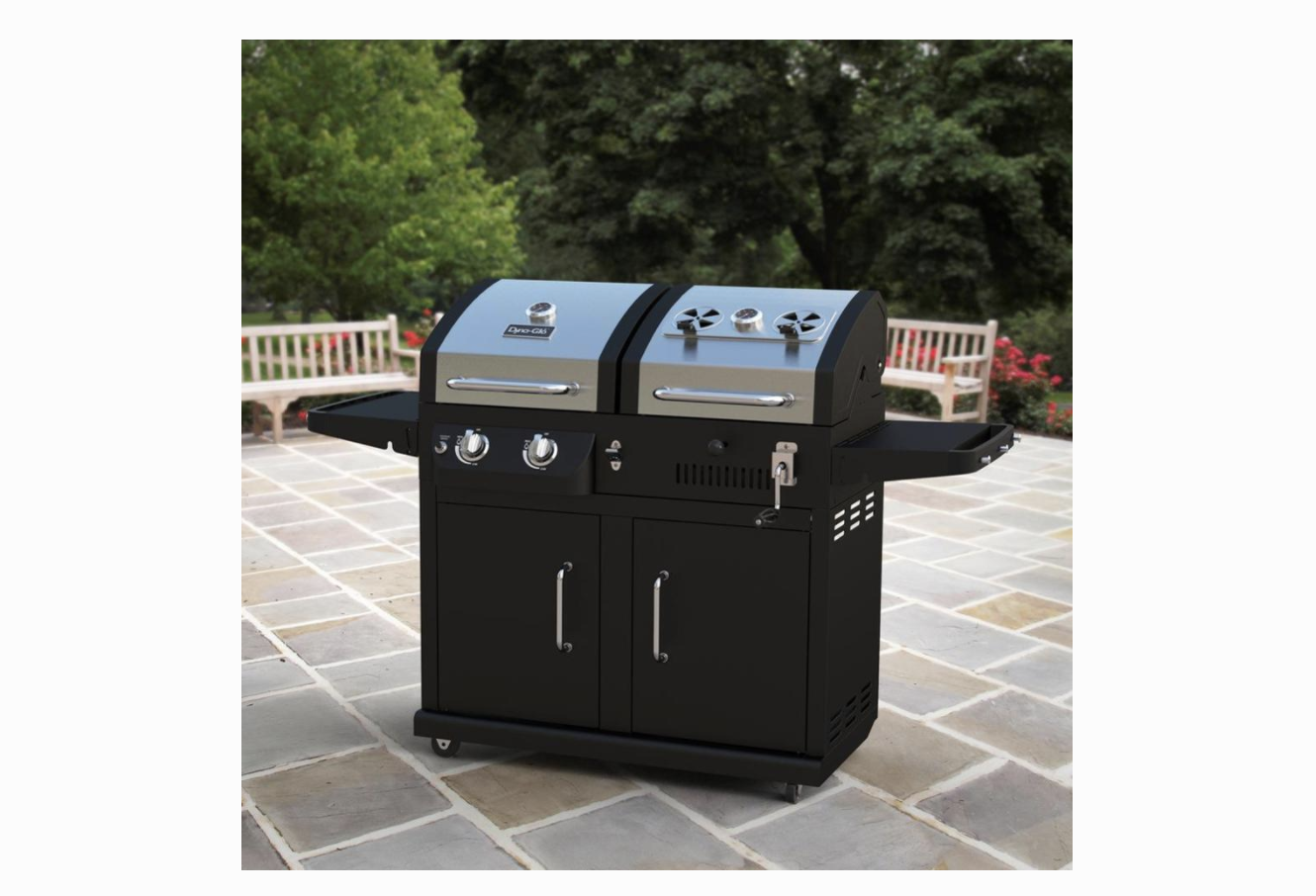 ---
Love the convenience of gas grills but also the smoky, savory cooking you get with charcoal? Well you don't have to choose. This dual fuel grill has one side with a pair of 12,000 BTU burners and another with a large charcoal grill. The gas grill lights fast and offers the precision temperature control cooks love about the best gas grills, but it's actually easy to control the heat on the charcoal side as well, at least once you have a bit of experience. The tray holding to coals can be raised or lowered with a hand crank, and a pair of dampers allow you to control airflow, so in fact both cooking chambers give you plenty of control over the heat.
---
Best High-End Freestanding Gas Grill
Rockell by Caliber Gas Grill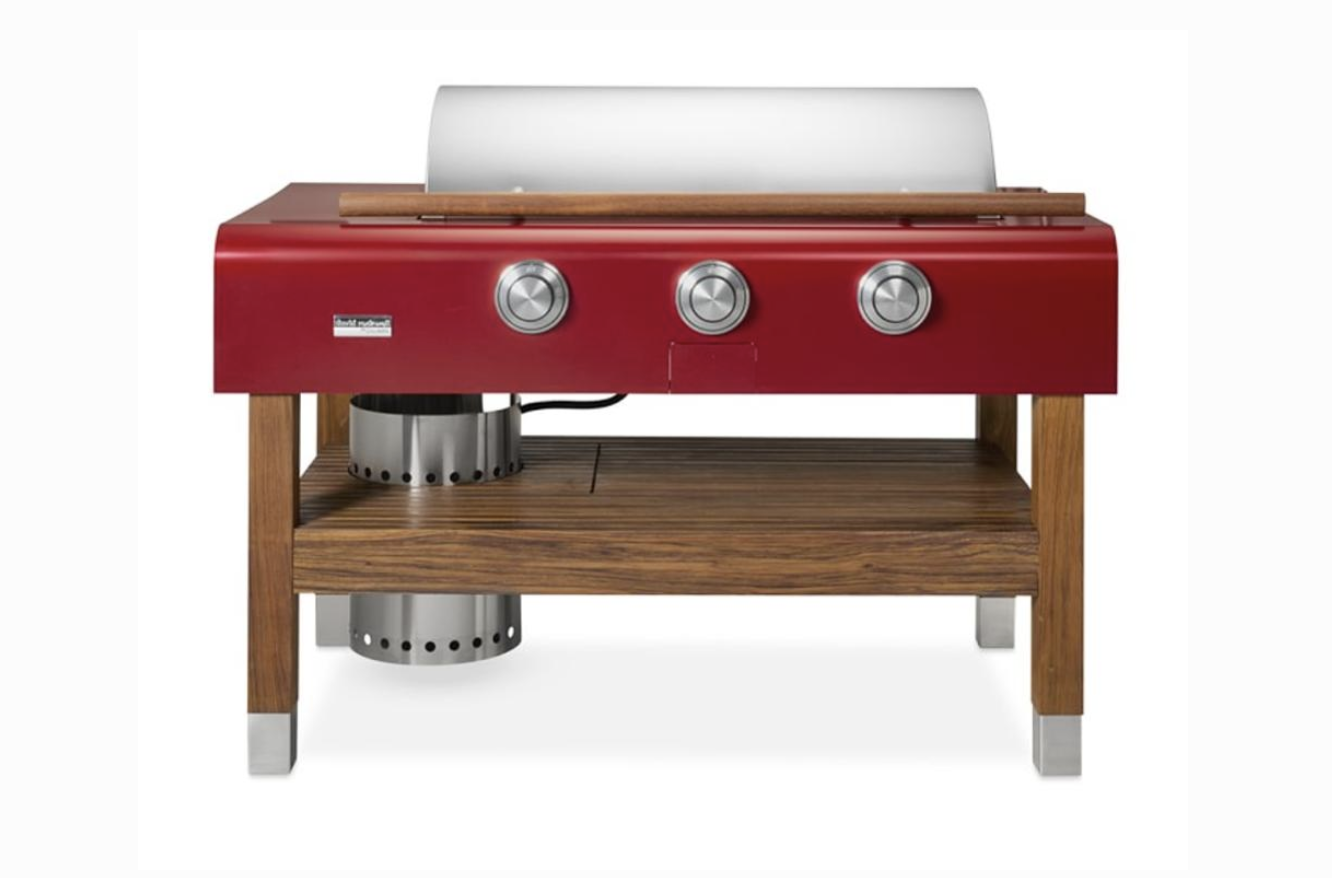 ---
Having a built-in outdoor grill will cost you several thousand dollars if you want materials of decent quality, not to mention a decent built-in grill. So while the $10K price tag of this Rockwell from Caliber is steep, when you realize it not only negates the need for a built-in but means you can move your high-end gas grill anywhere on your property, the price begins to make sense. Plus, it's stunning — with beautiful lines, integrated Brazilian cherry hardwood, and handsome hardware. And when it comes to cooking, this three-zone grill's burners each crank out 20,000 BTUs that heat a 675 square inch cooking space.
---
Best Built-In Gas Grill
Lion L75000 Series Built-In Natural Gas Grill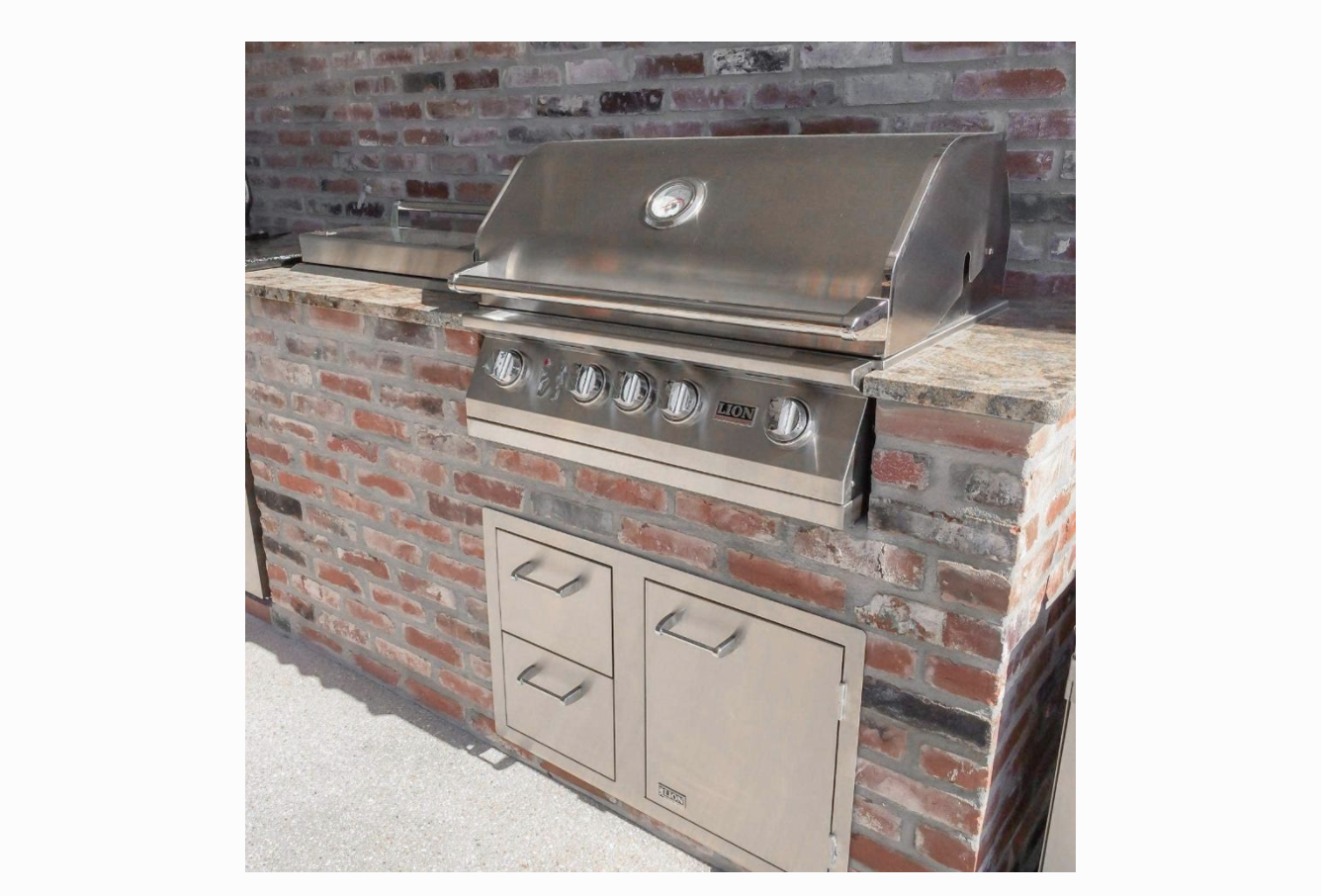 ---
If you are considering a built-in gas grill, then you already know you're going to spend a decent amount of money. So this Lion's under $1,500 price tag should be rather refreshing, especially considering the fact that it's a superlative piece of cooking equipment with lots of great extras. The four burners put out a staggering total of 75,000 BTUs, and the grill has a copious 830 square inches of cooking space. There's also an infrared rotisserie burner, an adjustable warming rack, a griddle, a smoker box and two interior lights, a feature that, once you have, you'll never want to be without again.
Click Here for more information