Out with the Old, Calabasas Road Sidewalk Replacement & General Renovation Commences
Posted by Jeff Biebuyck on Monday, June 6, 2022 at 8:10 AM
By Jeff Biebuyck / June 6, 2022
Comment
There is a famous saying, old is gold, but in progress, change is required. The construction of sidewalks on Calabasas Road has already commenced last April 4. Earlier this month, a major concrete pour highlighted the project development. This serves as a replacement for the old sidewalks that were starting to wear out on the northern side of Calabasas Road. Fun fact, the new sidewalk will use stamped concrete which LASTS LONGER and will LOOK BETTER.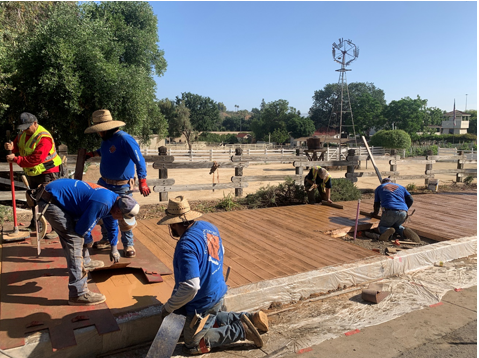 The replacement project has been designed in accordance with the Old Town Calabasas Master Plan and Design Guidelines and is expected to be completed in a span of 6 months. For more detailed information, the project will be phased out into 10 segments to minimize disruption to the community and residents. Generally, construction activity for each segment will include but is not limited to, removal and replacement of the existing furnishings, demolition of existing sidewalks, tree removals, new landscape and/or hardscape, rehabilitation of existing crosswalks, and the installation of stamped concrete sidewalk.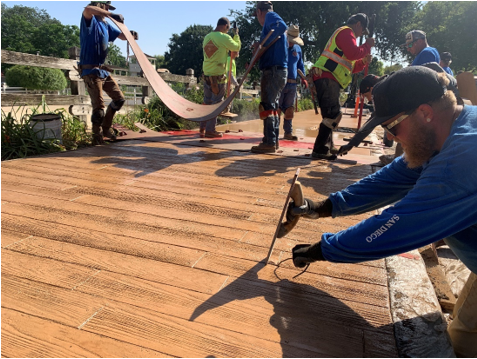 The construction offers other improvements for people within and passing through Calabasas Road. In addition to the sidewalk replacement, the project scope includes the replacement of existing streetlights with LED-powered lights. A green flag it is, as this will save us dollars from its efficient energy consumption, and long serviceability. Furthermore, existing fencings, signposts, and hitching posts are replaced to give out a fresher and more vivid feel on the roads. Our safety is still the utmost priority.
Crosswalks are to be renovated as well to add new in-pavement lighting to improve visibility and overall
safety on the road. These improvements to Old Town will preserve and enhance the "Old West" look and feel while providing pedestrian improvements. A win-win it is.
A little heads-up, one lane of the Calabasas Road will be closed during construction, so some traffic and potential delays. Currently, the developers are working on the north side and will proceed swiftly to the south side after the north's completion. Vehicles are generally advised to avoid passing through the area to get to the 101 and use PARKWAY CALABASAS instead.
It's an understatement that we value our time, and we want to reach our destinations as quickly as possible, but what is a little headache when after a few months' time, we will reap and enjoy the sturdier and more appealing road. Indeed, patience is a virtue.
Learn more about the project here.