Hidden Hills Ranks #17 out of 25 of the Best West Coast towns to Live
Posted by Jeff Biebuyck on Friday, February 25, 2022 at 11:38 AM
By Jeff Biebuyck / February 25, 2022
Comment
Small town living, the former American Dream? According to a recent article, "Best West Coast small towns to live in," the dream of escaping city life for a quieter, smaller town is still ideal.
The most important aspect is still location, location, location. While many Americans prefer small-town living, they still want access to larger cities that they can commute to for work, cultural activities, and more.
If you're looking for a small town with plenty of amenities and an excellent quality of life, Hidden Hills is a top contender. It's ranked #17 on the list of the 25 best West Coast towns to live in.
Hidden Hills began in 1950 when developer A.E. Hanson placed a large sign on Ventura Boulevard at the intersection of Long Valley Road that announced, "1000 acres of elbow room. Live in Hidden Hills gated community where living is fun. Full Acre Lots $4750."
Initially, A.E. Hansen built two model homes in 1950 on Long Valley Road; one sold for $35,000. By 1957, the cost of a three- or four-bedroom home on a 1-acre site was between $27,500 to $47,500. One- to 5-acre homesites sold for $7,950 to $12,500.

Fast forward to today, and there are now approximately 670 homes ranging in price from $2,000,000 to $20,000,000… and beyond.
Known for its privacy, Hidden Hills, CA, has become a haven for celebrities and high-profile professionals. It is a unique 24-hour guarded and gated community that is just under two square miles. The architectural styles range from California Ranch-style to Luxury Estate homes. The homes range from approximately 2,200 square feet to over 24,000 square feet.
The town has a population of just 1,500 residents, but it offers plenty of opportunities for recreation and relaxation. You'll find plenty of open space, parks, and trails for hiking and biking, as well as a golf course and equestrian center. There are also a variety of shops and restaurants to enjoy.
What is it that makes Hidden Hills so unique? Located in the San Fernando Valley, it possesses an authentic country atmosphere with the absence of sidewalks and streetlights and the existence of white three-rail wooden fences, corrals, and barns that have preserved a way of life for the residents of Hidden Hills properties. Miles and miles of bridle trails, along with a beautiful and peaceful ambiance, create an extraordinary place to live and raise a family if you're so inclined.
The dedicated staff and governing bodies of Hidden Hills cultivate a peaceful, safe community and offer the individuals and families who call it home a sanctuary.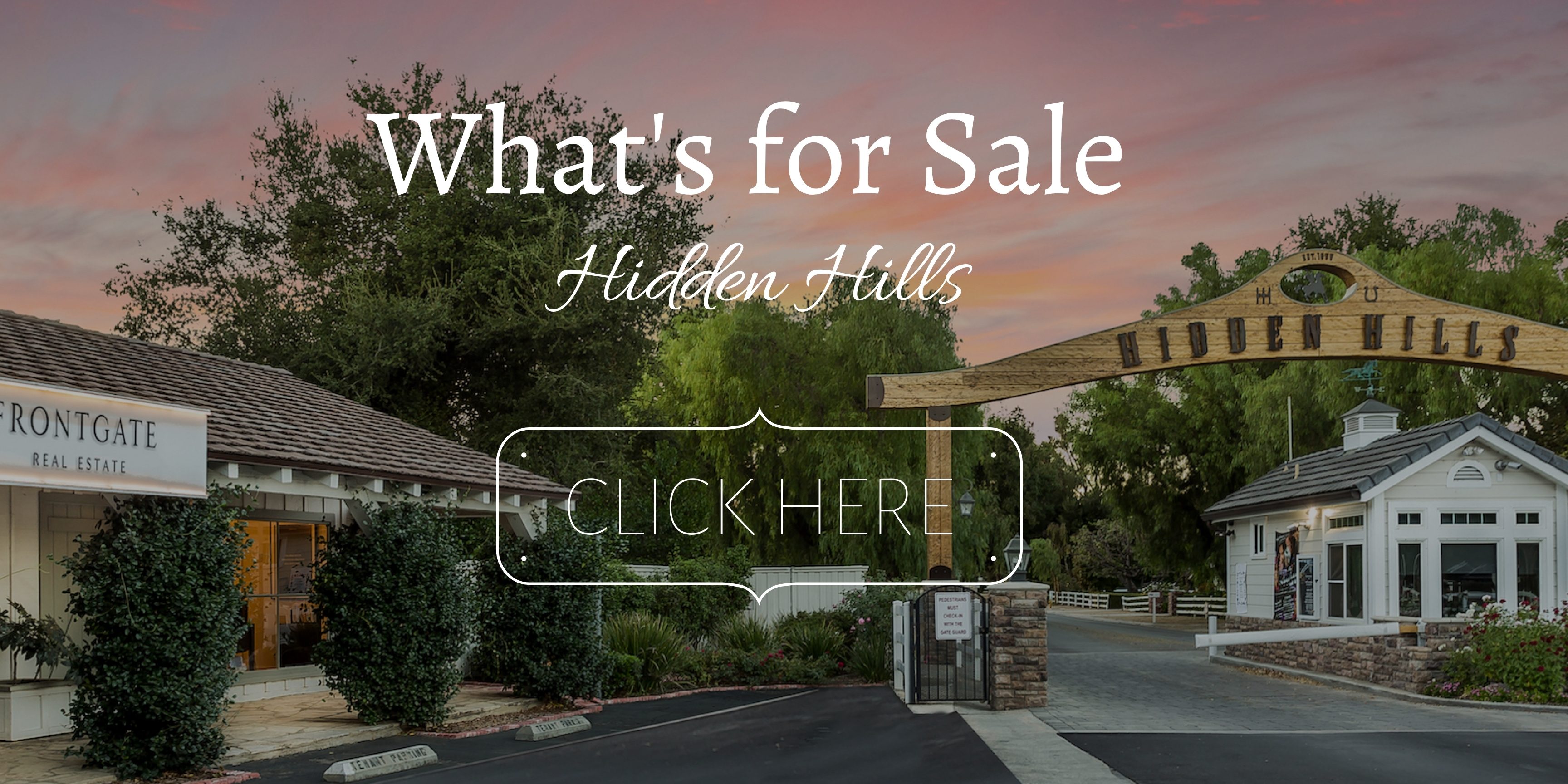 Hidden Hills CA luxury real estate is truly a unique and exclusive community to call home! Want to learn more about this magnificent community? Click here to learn more about the people and lifestyle, local restaurants, and school districts.
Are you looking to invest in Hidden Hills real estate? Dana & Jeff can help you find the perfect Hidden Hills luxury home that suits your needs and budget. Contact them today!