Frontgate Real Estate Ranked in the Top 1% by The Wall Street Journal and Among Top 50 Teams in the Nation
Posted by Jeff Biebuyck on Saturday, June 19, 2021 at 7:14 AM
By Jeff Biebuyck / June 19, 2021
Comment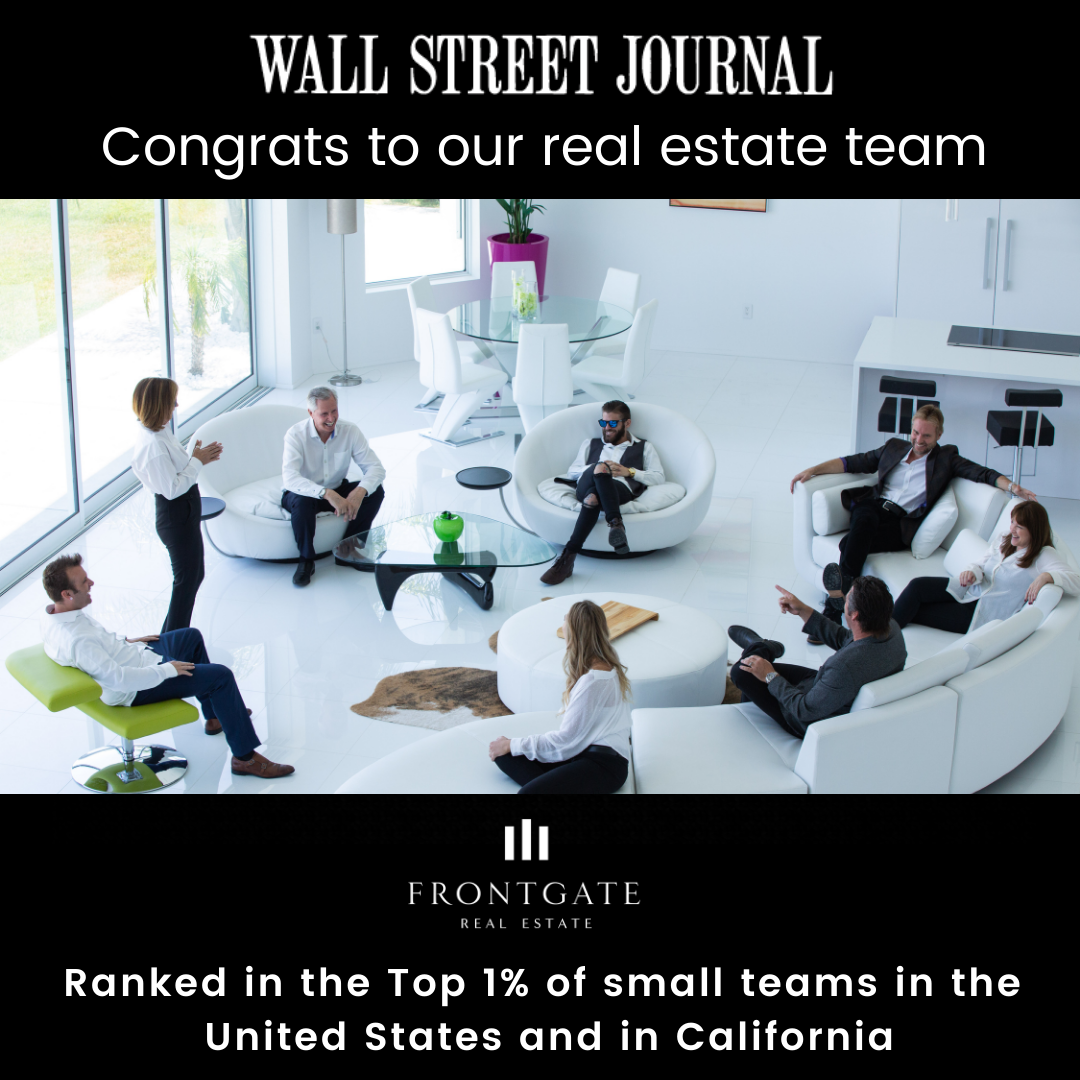 We are proud to announce that Frontgate Real Estate has been ranked in the Top 1% of small real estate teams in the United States and in California by The Wall Street Journal for 2020.
Frontgate is among the Top 50 teams in the nation and recognized as America's Best Agents for 2021.
Each year, Real Trends identifies and celebrates the top 1.5% of all 1.4 million real estate agents in the country. This year, we are thrilled to announce that Frontgate Real Estate is recognized among the nation's best.
Frontgate Real Estate has also made it into the 16th annual The Thousand list of America's top 1,000 real estate sales professionals and teams. An abridged list of the designees is published in today's edition of The Wall Street Journal.
A complete listing is available online at https://www.realtrends.com/agent-rankings/.
* Featured on The Thousand
Details on each team's and individual's accomplishments at SIDE can be found below.
THE THOUSAND:
1. Real Estate Experts - Campbell, CA
Brett Jennings, Founder
#30 - Mega Teams by Volume - $462.2M
2. Stroyke Properties Group at Bayside Real Estate Partners - Manhattan Beach, CA
Bryn Stroyke, Co-Founder; Robb Stroyke, Co-Founder
#20 - Medium Teams by Volume - $228.9M
3. Everhome Real Estate - Fremont, CA
Nicole Causey, Co-Founder; Omar Murillo, Co-Founder; Yvette Teng, Co-Founder
#23 - Medium Teams by Volume - $223.3M
4. Room Real Estate - Santa Cruz, CA
Jayson Madani, Founder; Maaret Forst, Founder
#43 - Large Teams by Volume - $190.2M
5. Frontgate Real Estate - Hidden Hills, CA
Jeffrey Biebuyck, Founder; Dana Olmes, Founder
#48 - Small Teams by Volume - $184M
6. Amalfi Estates - Pacific Palisades, CA
Anthony Marguleas, Founder
#21 - Medium Teams by Volume $180.1M
7. Real Estate 38 - San Jose, CA
Zaid Hanna, Founder
#47 - Medium Teams by Volume - $172.9M
8. Own Real Estate - South San Francisco, CA
Wilson Leung, Founder
#50 - Medium Teams by Volume - $167.5M
9. Generation Real Estate - San Francisco, CA
Lamisse Droubi, Founder
#51 - Medium Teams by Volume - $165.4M
#95 - Individuals by Volume, Lamisse Droubi - $141.9M
10. Own Marin - Larkspur, CA (honorable mention: partnered with Side in April 2021)
Barr Haney, Founder; Whitney Potter, Founder
#8 - Small Teams by Volume $341.7M
Side partners recognized as America's Best Agents for 2021:
1. Real Estate Experts - Campbell, CA
Brett Jennings, Founder
#5 - California Mega Teams by Volume - $462.2M
#8 - California Mega Teams by Transaction Sides - 388

2. Stroyke Properties Group at Bayside Real Estate Partners - Manhattan Beach, CA
Bryn Stroyke, Co-Founder; Robb Stroyke, Co-Founder
#10 - California Medium Teams by Volume - $228.9M

3. Everhome Real Estate - Fremont, CA
Nicole Causey, Co-Founder; Omar Murillo, Co-Founder; Yvette Teng, Co-Founder
#12 - California Medium Teams by Volume - $223.3M
#5 - California Medium Teams by Transaction Sides - 220

4. BarbCo Real Estate - San Francisco, CA
Paul Barbagelata, Founder
#15 - California Mega Teams by Volume - $197.2M
#27 - California Mega Teams by Transaction Sides -124

5. Room Real Estate - Santa Cruz, CA
Jayson Madani, Founder; Maaret Forst, Founder
#13 - California Large Teams by Volume - $190.2M
#9 - California Large Teams by Transaction Sides - 252

6. Fair Trade Real Estate - Santa Ana, CA
Matthew Miller, Founder; Donald "Dek" Bake, Founder; Saad Khan, Founder
#17 - California Mega Teams by Volume - $185.4M
#9 - California Mega Teams by Transaction Sides - 357

7. Frontgate Real Estate - Hidden Hills, CA
Jeffrey Biebuyck, Founder; Dana Olmes, Founder
#18 - California Small Teams by Volume - $184M
#75 - California Small Teams by Transaction Sides - 90

8. Amalfi Estates - Pacific Palisades, CA
Anthony Marguleas, Founder
#21 - California Medium Teams by Volume - $180.1M
9. Real Estate 38 - San Jose, CA
Zaid Hanna, Founder
#24 - California Medium Teams by Volume - $172.9M
#13 - California Medium Teams by Transaction Sides - 162
10. Own Real Estate - South San Francisco, CA
Wilson Leung, Founder
#26 - California Medium Teams by Volume - $167.5M
#21 - California Medium Teams by Transaction Sides - 153

11. Generation Real Estate - San Francisco, CA
Lamisse Droubi, Founder
#27, California Medium Teams by Volume - $165.4M
#117, California Medium Teams by Transaction Sides - 117
12. Happen Houston - Houston, TX
Michael Silva, Founder
#4 - Texas Large Teams by Volume - $149.6M
#9 - Texas Large Teams by Transaction Sides - 342
13. Lamisse Droubi, Generation Real Estate - San Francisco, CA
#37 - California Individuals by Volume - $141.9M
#202 - California Individuals by Transaction Sides - 52
14. City Real Estate - San Francisco, CA
David Cohen, Founder; Joan Gordon, Founder
#29 - California Large Teams by Volume - $132M
#46 - California Large Teams by Sides - 116

15. 8 Blocks Real Estate - Santa Clara, CA
Mei Ling, Founder
#52 - California Small Teams by Volume - $125.6M
#72 - California Small Teams by Transaction Sides - 91
16. Revel Real Estate - Beverly Hills, CA
Ben Bacal, Founder
#25 - California Mega Teams by Volume - $120.2M
#31 - California Mega Teams by Transaction Sides - 90
17. Polaris Realty - San Francisco, CA
Ron Abta, Founder
#65 - California Small Teams by Volume - $116.5M
18. Town Real Estate - Danville, CA
Stacy Hale, Founder; Jason Kerner, Founder
#53 - California Medium Teams by Volume - $111.7M
#70 - California Medium Teams by Transaction Sides - 97
19. District Homes - Berkeley, CA
Anna Bellomo, Founder
#56 - California Medium Teams by Volume - $108M
#85 - California Medium Teams by Transaction Sides - 93
20. Level Up Realty - Fairfield, CA
Nicole Solari, Founder
#38 - California Large Teams by Volume - $106.9M
#17 - California Large Teams by Transaction Sides - 215
21. Navigate Realty - El Dorado Hills, CA
Kelli Griggs, Founder
#39 - California Large Teams by Volume - $106.8M
#15 - California Large Teams by Transaction Sides - 217
22. Ascend Real Estate - San Francisco, CA
Steven Huang, Founder; Dan Risman Jones, Founder
#58 - California Small Teams by Volume - $106.6M
#114 - California Small Teams by Transaction Sides - 78

23. Artemis Real Estate - San Francisco, CA
Arrian Binnings, Founder; Payton Stiewe, Founder; Sejal Binnings, Founder
#83 - California Small Teams by Volume - $104.7M
24. Portfolio Real Estate - Sacramento, CA
Judy Cuong, Co-Founder; Samantha Tov, Co-Founder
#27 - California Mega Teams by Volume - $102.1M
#18 - California Mega Teams by Transaction Sides - 240
25. Asante Realty - San Ramon, CA
Rama Mehra, Founder
#9 - California Small Teams by Volume - $101.9M
#81 - California Small Teams by Transaction Sides - 81
26. Kinoko Real Estate - San Francisco, CA
Kevin Gueco, Founder
#44 - California Large Teams by Volume - $99.6M
27. Mosaik Real Estate - San Francisco, CA
Michelle Kim, Founder
#71 - California Medium Teams by Volume - $97.2M
#93 - California Medium Teams by Transaction Sides - 88
28. Bay Real Estate Group - San Francisco, CA
Michelle Balog, Founder
#77 - California Medium Teams by Volume - $95.5M
#69 - California Medium Teams by Transaction Sides - 97.5
29. House Real Estate - Sacramento, CA
Tim Collom, Founder
#99 - California Small Teams by Volume - $94.8M
#273 - California Small Teams by Transaction Sides - 124.5
30. Anvil Real Estate - Laguna Hills, CA
Melody Smith, Founder; Dan Smith, Principal
#110 - California Small Teams by Volume - $92M
#50 - California Small Teams by Transaction Sides - 101
31. Aspire Real Estate - Redding, CA
Cory Meyer, Founder
#51 - California Large Teams by Volume - $91.5M
#7 - California Large Teams by Transaction Sides - 242
32. Block Change Real Estate - San Jose, CA
Thao Dang, Co-Founder; Brian Ng, Co-Founder
#117 - California Small Teams by Volume - $89.6M
33. Prime Real Estate - Folsom, CA
Robert Yost, Founder
#54 - California Large Teams by Volume - $87.6M
#27 - California Large Teams by Transaction Sides - 168
34. Cush Real Estate - Oakland, CA
David Higgins, Founder
#124 - California Small Teams by Volume - $85.3M
35. All City Homes - Elk Grove, CA
Roy Machado, Founder; Serina Lowden, Founder
#29 - California Mega Teams by Volume - $84M
#20 - California Mega Teams by Transaction Sides - 207
36. Momentum Realty - San Jose, CA
Mike Ramos, Founder
#99 - California Medium Teams by Volume - $81.6M
#70 - California Medium Teams by Transaction Sides - 97
37. North Point Real Estate- San Francisco, CA
Laura Lanzone, Founder; Michael Annunziata, Founder; Oggi Kashi, Founder
#102 - California Medium Teams by Volume - $81M
38. Elation Real Estate - Pleasanton, CA
Gina Piper, Founder
#144 - California Small Teams by Volume - $80.6M
39. Veritas Homes - San Carlos, CA
Val Vandervort, Founder
#151 - California Small Teams by Volume - $78.2M
40. Haylen Real Estate Investments - Santa Clara, CA
Helen Chong, Founder
#107 - California Medium Teams by Volume - $78M
41. Rainmaker Real Estate - Palo Alto, CA
Alex Wang, Founder
#153 - California Small Teams by Volume - $77.9M
42. David Higgins, Cush Real Estate - Oakland, CA
Campbell, CA
#124 - California Individuals by Volume - $76.8M
#138 - Individuals by Transaction Sides - 59
43. Atria Real Estate - Sunnyvale, CA
Kevin Swartz, Founder
#182 - California Small Teams by Volume - $71.6M
44. Market Real Estate - San Diego, CA
Jeff Rosa, Founder
#122 - California Medium Teams by Volume - $70.1M
#58 - California Medium Teams by Transaction Sides - 108
45. Arrive Real Estate Group - San Ramon, CA
Katie Moe, Founder; Jen Larson, Founder
#132 - California Medium Teams by Volume - $65.7M
46. Kindred SF Homes - San Francisco, CA
Cynthia Cummins, Founder
#138 - California Medium Teams by Volume - $65M
47. Mint Real Estate - Laguna Beach, CA
Bryan Hill, Founder; Austin Glass, Founder
#140 - California Medium Teams by Volume - $64.8M
#82 - California Medium Teams by Transaction Sides - 94.5
48. Pacific Edge Real Estate - San Francisco, CA
Amy Clemens, Founder; Alec Mironov, Founder
#238 - California Small Teams by Volume - $64M
49. Perspective Real Estate - Oakland, CA
Aaron Brown, Founder
#246 - California Small Teams by Volume - $63.1M
50. Illuminate Properties - Los Altos, CA
Patrice Horvath, Founder
#254 - California Small Teams by Volume - $61M
51. Power of 2 Realty - Riverside, CA
Jared Jones, Founder; Brian Hopkins, Co-Founder
#153 - California Medium Teams by Volume - $59.8M
#48 - California Medium Teams by Transaction Sides - 116
52. Homestead Real Estate - Napa, CA
Jerry Pujals, Founder; Susan Pujals, Founder
#273 - California Small Teams by Volume - $58.7M
53. Kinetic Real Estate - Daly City, CA
Kevin Cruz, Founder
#157 - California Medium Teams by Volume - $58.4M
#103 - California Medium Teams by Transaction Sides - 84
54. Marterra Real Estate - Costa Mesa, CA
Christine Morgan, Founder; Daniel Morgan, Founder
#158 - California Medium Teams by Volume - $58.4M
55. Thrive Real Estate - Folsom, CA
Stephanie Noble, Founder
#74 - California Large Teams by Volume - $57.7M
#55 - California Large Teams by Transaction Sides - 100
56. Trillion Real Estate - Temecula, California
Tyson Robinson, Founder
#75 - California Large Teams by Volume - $56.2M
#42 - California Large Teams by Transaction Sides - 131
57. The Hobin Company at Bayside Real Estate Partners - Manhattan Beach, CA
Molly Hobin Williams, Broker Associate
#321 - California Small Teams by Volume - $53.8M
58. Legacy Real Estate - San Francisco, CA
Carren Shagley, Founder; Jennifer Burden, Founder
#182 - California Medium Teams by Volume - $52.9M
59. Harper Real Estate - San Francisco, CA
Anthony Navarro, Founder
#336 - California Small Teams by Volume - $52.7M
60. Major League Properties - Placentia, CA
Matt Luke, Founder
#182 - California Small Teams by Volume - $52.3M
61. Pacific Oak Real Estate Services - Hollister, CA
Susan Fixsen, Founder
#184 - California Medium Teams by Volume - $52M
62. BLVD Real Estate - Walnut Creek, CA
Joshua Simkin England, Founder
#357 - California Small Teams by Volume - $51.3M
63. Rise Homes - San Mateo, CA
Joe Polyak, Founder
#359 - California Small Teams by Volume - $51.1M
64. Cici Wang, Aijia Realty - Santa Clara, CA
#290 - California Individuals by Volume - $50.9M
65. Platinum One Real Estate - Pacific Grove, CA
Debby Beck, Founder
#409 - California Small Teams by Volume - $48.2M
66. Redefine Real Estate - Los Gatos, CA
Christina Khosrowabadi, Founder
#411 - California Small Teams by Volume - $47.8M
67. Sac Platinum Real Estate - Rancho Cordova, CA
Mark Daya, Founder
#416 - California Small Teams by Volume - $47.5M
#63 - California Small Teams by Transaction Sides - 95
68. Helm Real Estate - San Francisco, CA
Marcus Miller, Founder
#202 - California Medium Teams by Volume - $47.4M
69. Rinu Real Estate - Saratoga, CA
Chad West Myers, Founder
#421 - California Small Teams by Volume - $47.2M
70. Mountain Luxury Properties - South Lake Tahoe, CA
Gregory Ochoa, Founder
#437 - California Small Teams by Volume - $46.1M
71. Edge Real Estate Agency - Manhattan Beach, CA
Dave Fratello, Founder
#466 - California Small Teams by Volume - $44.5M
72. Exceptionally Cool Homes - Larkspur, CA
Jon DiRienzo, Founder
#473 - California Small Teams by Volume - $44M
73. Folsom Lake Realty - Folsom, CA
Mark Ferry, Co-Founder; Amie Ferry, Co-Founder
#214 - California Medium Teams by Volume - $43.4M
74. Elevate Palm Springs - Palm Springs, CA
Michael Slate, Founder
#217 - California Medium Teams by Volume - $42.4M
#90 - California Medium Teams by Transaction Sides - 91
75. Integrity Texas Properties - The Woodlands, TX
Cindy Hamann, Founder
#52 - Texas Large Teams by Volume - $41.5M
#41 - Texas Large Teams by Transaction Sides - 151
76. Echelon Real Estate - Davis, CA
Chad DeMasi, Founder
#554 - California Small Teams by Volume - $39.1M
77. Elevation Real Estate - San Francisco, CA
Eddie O'Sullivan, Founder
#555 - California Small Teams by Volume - $39.1M
78. Vicky Le, Province Real Estate - San Jose, CA
#518 - California Individuals by Volume - $37.9M
79. Boutique Real Estate - Roseville, CA
Dayna Summers, Founder
#88 - California Large Teams by Volume - $37.3M
#71 - California Large Teams by Transaction Sides - 78
80. The Davidson Group at Bayside Real Estate Partners - Manhattan Beach, CA
Jennifer Davidson, Associate
#606 - California Small Teams by Volume - $37.2M
81. Tera Real Estate - Campbell, CA
Triet Nguyen, Founder
#622 - California Small Teams by Volume - $36.6M
82. Olani Properties - Sacramento, CA
Kiana Rodrigues, Founder
#241 - California Medium Teams by Volume - $36.2M
83. Ocean Blue Real Estate - Half Moon Bay, CA
David Oliphant, Founder
#676 - California Small Teams by Volume - $35M
84. Sage Real Estate - San Francisco, CA
Brian Garrett, Founder
#759 - California Small Teams by Volume - $32.5M
85. Aethos Real Estate - San Francisco, CA
John L. Woodruff III, Founder
#800 - California Small Teams by Volume - $31.5M
86. Prosper Real Estate - Brentwood, CA
Mark Schweller, Founder; Heather Winham, Founder
#818 - California Small Teams by Volume - $30.7M
87. The Front Steps - San Francisco, CA
Alexander Clark, Founder
#820 - California Small Teams by Volume - $30.7M
88. Sterling Homes - San Francisco, CA
Anna Spathis, Founder; Dennis Stavropoulos, Founder
#825 - California Small Teams by Volume - $30.6M
89. Sarah Knauer, Amalfi Estates - Pacific Palisades, CA
#833 - California Individuals by Volume - $30.5M
90. Beppu Group - Menlo Park, CA
Terel Beppu, Founder
#838 - California Small Teams by Volume - $30.2M
91. Republic Realty - Stockton, CA
Ana Pereyra, Founder
#841 - California Small Teams by Volume - $30.1M
#94 - California Small Teams by Transaction Sides - 84
92. Donny Piwowarski, Hero Real Estate - Tracy, CA
#1113 - California Individuals by Volume - $26.6M
#159 - California Individuals by Transaction Sides - 56
93. Victoria Velasquez, Amalfi Estates - Pacific Palisades, CA
#1389 - California Individuals by Volume - $23.8M
94. Marni Jiminez, Grove Realty - Riverside, CA
#1451 - California Individuals by Volume - $23.3M
#228 - California Individuals by Transaction Sides - 50
95. Leslie Peterson, Evolve Real Estate - Castro Valley, CA
#1454 - California Individuals by Volume - $23.3M
96. CaLee McManus, Monarch Real Estate - Ladera Ranch, CA
#1487 - California Individuals by Volume - $23M
97. Debbie Marie Kanehira, WaveCrest Real Estate - Irvine, CA
#1518 - California Individuals by Volume - $22.8M
98. Kofi Nartey, GLOBL RED - Beverly Hills, CA
Previously Society Real Estate + Development
#1610 - California Individuals by Volume - $22.2M
99. Rica Ruiz, Meraki Real Estate - Foster City, CA
#1642 - California Individuals by Volume - $21.9M
100. Jack Archie, Pacific Plains Realty - Rancho Santa Fe, CA
#1726 - California Individuals by Volume - $21.3M
101. Robyn Webb, Vision Real Estate & Design - Laguna Niguel, CA
#1777 - California Individuals by Volume - $21M
102. Carlo Mercado, Nest Finders - Houston, TX
#252 - Texas Individuals by Volume - $20.6M
#49 - Texas Individuals by Transaction Sides - 84
103. Mary DeVries, Abacus Real Estate - San Francisco, CA
#1851 - California Individuals by Volume - $20.4M
104. Deniz Kahramaner, Atlasa - San Francisco, CA
#1870 - California Individuals by Volume - $20.3M
105. Todd Bousman, bouHAUS Properties - Newport Beach, CA
#1926 - California Individuals by Volume - $20M
106. John Babai, Arc Realty - Tustin, CA
#1931 - California Individuals by Volume - $20