Support Tiny Home Villages Providing Shelter Throughout The San Fernando Valley
Posted by Jeff Biebuyck on Sunday, November 14, 2021 at 6:32 PM
By Jeff Biebuyck / November 14, 2021
Comment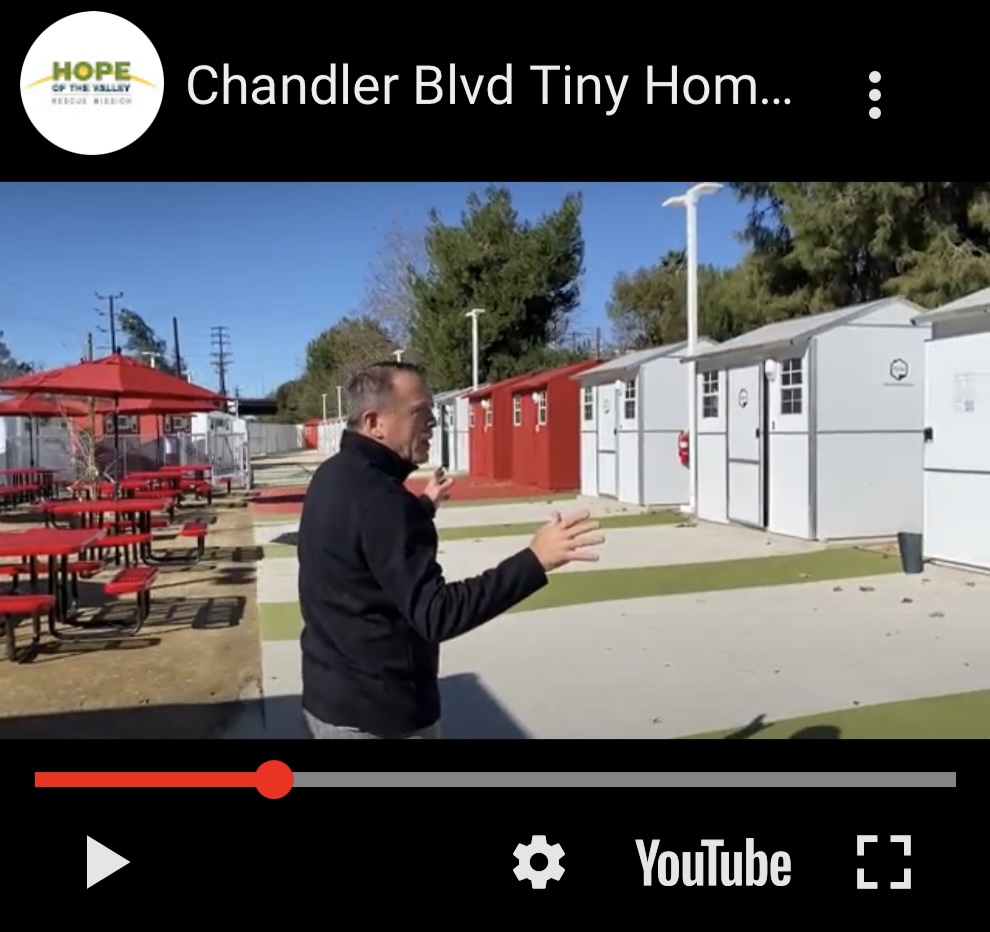 About Tiny Homes
We exist to prevent, reduce and eliminate poverty, hunger and homelessness by offering immediate assistance and long term solutions.
Hope of the Valley is inviting community members to support the Tiny Home Villages. The donation is designed to assist Hope of the Valley with the operational costs* of the site.
Hope of the Valley, founded in the summer of 2009, now operates 13 Shelters, 2 Access Centers and a Job Center. They currently provide 1,040 beds per night at our various shelters throughout the San Fernando Valley housing single adults, families and transitional age youth. They currently serve approximately 1,500 meals per day and 547,500 meals annually.
The Tiny Homes are really amazing. Each one is 64 sq. ft. in size, has two beds, heat, air-conditioning, windows, a small desk and a front door! Meals, showers, case management, housing navigation, mental health, job training and placement will be provided.
Help Make Homeless History!


The Chandler Blvd. Tiny Home Village opened February 2021 and has 39 homes and 85 beds. Alexandria Park opened May 2021 and has 103 homes and 200 beds. Reseda opened in June 2021 and has 52 homes and 101 beds. Tarzana opened in July 2021 with 78 homes and 148 beds. Whitsett West opened in August of 2021 with 77 homes and 150 beds. Arroyo Seco Tiny Home Village opened in November of 2021 with 117 homes and 224 beds. In 2021 we have already added 908 beds to our existing 506 beds! And… there is much more growth and expansion planned for the rest of the year as we strive to bring inside our unhoused neighbors.
In February of 2021, Hope of the Valley launched the very first Tiny Home Village in the City of Los Angeles, Chandler Blvd. Tiny Home Village in North Hollywood. Since it opened the City of Los Angeles has built and funded five more Tiny Home Villages: Alexandria Park(NoHo), Tarzana Sun Flower Cabin Community, Reseda Cabin Community, Whitsett West (NoHo) and Arroyo Seco (Highland Park). With many thanks to Councilmen Paul Krekorian, John Lee, Bob Blumenfield, Kevin De Leòn and Los Angeles Mayor Eric Garcetti these Tiny Home Villages are changing the face of homelessness throughout the Greater Los Angeles Area.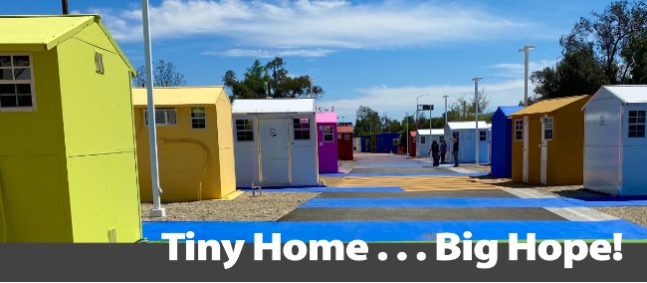 Frontgate Real Estate has been passionate about this wonderful local organization for years. If you have any questions on getting involved please contact Hope of the Valley or the Dana & Jeff Luxury Homes Team | Frontgate Real Estate for more information.
CONTACT HOPE OF THE VALLEY
Telephone: (818) 392-0020 Email: [email protected]