COVID-19 Vaccinations Are Available
Posted by Jeff Biebuyck on Friday, March 26, 2021 at 10:13 AM
By Jeff Biebuyck / March 26, 2021
Comment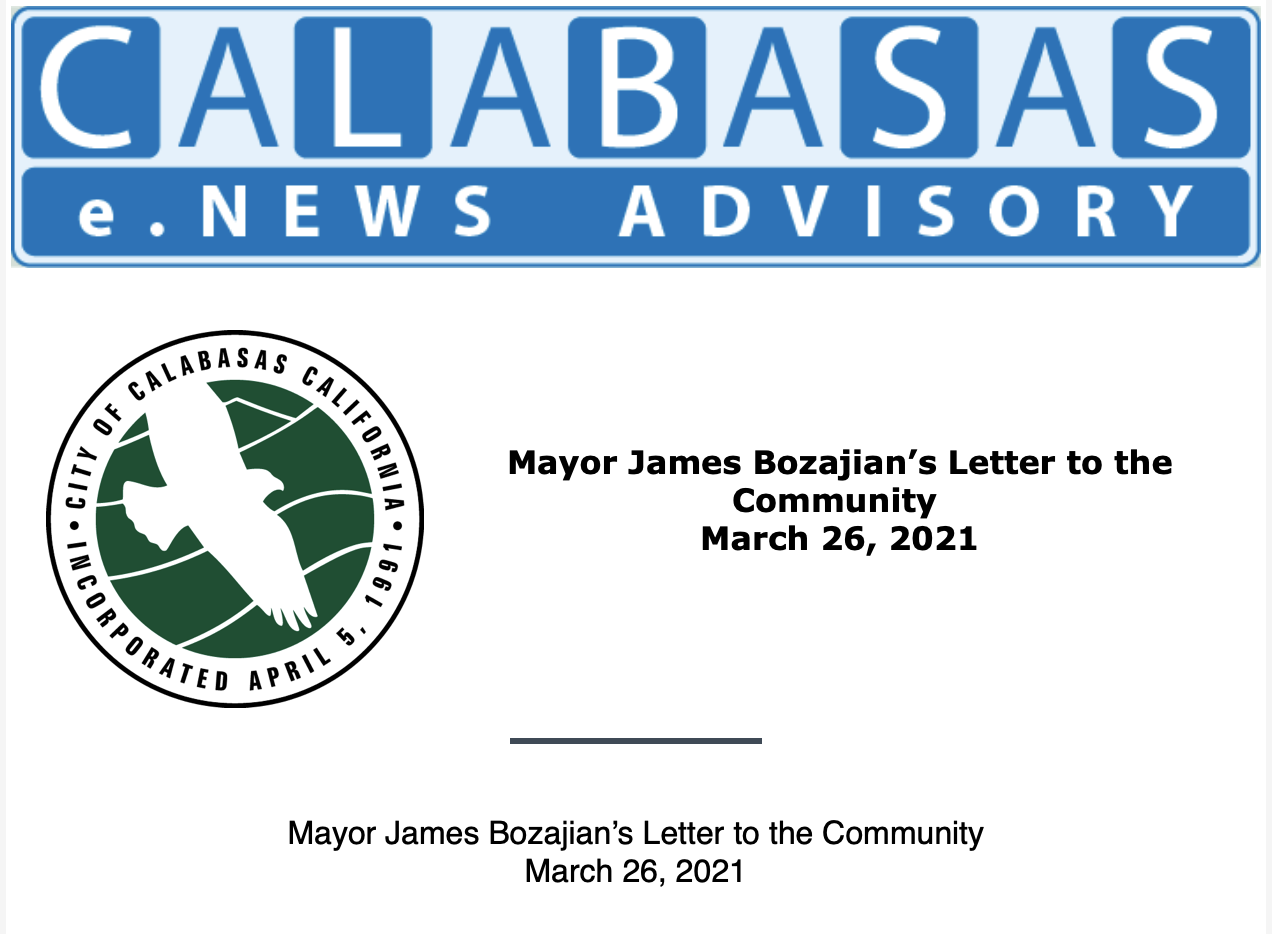 The State of California is vastly expanding the groups eligible to schedule COVID-19 vaccinations. Starting April 1st, anyone age 50 and older can sign up to get vaccinated. Then, on April 15th, the age drops all the way down to 16-year-olds. Even though the State is expecting major increases in vaccine supplies, it will still take many months to get every person vaccinated. To find out more about vaccine sign-ups, go to www.VaccinateLACounty.com
The rate of COVID infections, hospitalizations, and deaths are way down from peak levels. After being stuck for months in the "Purple Tier" within the State's color-coded system, Los Angeles County now sits in the "Red Tier." We are actually very close to moving up into the "Orange Tier," where even more activities will be permitted. But remember: The County, working with the State, makes the call to move into a less-restrictive tier, and not an individual city such as Calabasas. Then again, all of this may be moot very shortly, as State officials have hinted that in a couple of months the tier system may be scrapped altogether. Meanwhile, please keep in mind that even though you may have received one or both doses of vaccine and are considered fully vaccinated, you should continue to observe all government-mandated safety protocols.
At this week's City Council meeting, we discussed six bills pending in the State Legislature that could directly impact Calabasas. Of the six, the Council voted (unanimously) to take formal positions on two of them and to defer action on the other four until they proceed farther along in the legislative process. The Council voted to oppose SB9, which seeks to preempt local municipal land use ordinances by allowing for the ministerial approval of up to three homes on an existing single family residential lot. The Council voted to support SB765, which would allow cities to return to previous setback regulations for accessory dwelling units (which the Legislature capped at four feet in its last session). The full text of all six bills, along with legislative analyses, can be found here: https://leginfo.legislature.ca.gov/
We also introduced long-awaited revisions to the City's ordinances regulating wireless telecommunication facilities. The changes reflect significant levels of input from the community through public hearings and a comprehensive, citywide survey. Taken as a whole, these amendments will help improve wireless services throughout Calabasas. A more detailed discussion of the particulars of these ordinances can be found here: https://bit.ly/31kg1Hl (Item 12).
Finally, the City has decided to bring back its annual egg hunt event for children ages eight and younger. The "Hop & Go Bunny Trail," slated for April 3rd at Juan de Anza Park from 9 a.m. to noon, will carefully observe all COVID-related protocols. Tickets must be pre-purchased on-line: https://bit.ly/39igRsn
James R. Bozajian
Mayor
City of Calabasas