California rolls out scannable QR Code Vaccine Record. Here's how to get yours.
Posted by Jeff Biebuyck on Wednesday, January 12, 2022 at 1:50 PM
By Jeff Biebuyck / January 12, 2022
Comment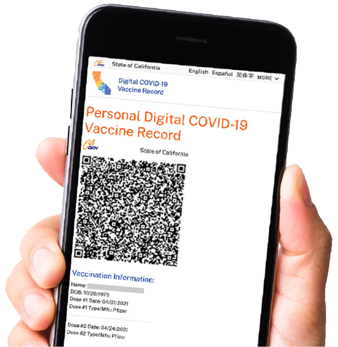 In California, anyone can access find their digital COVID-19 vaccine record through California Department of Public Health. Frontgate Real Estate shares how you can get yours through the California Digital COVID-19 Vaccine Record portal.
What is a Digital COVID-19 Vaccine Record (DCVR)?
Your Digital COVID-19 Vaccine Record is an electronic vaccination record drawn from the data stored in the California immunization registry and is an official record of the state of California. The DCVR includes a QR code that (when scanned by a SMART Health Card reader) will display the same information as your paper CDC vaccine card: your name, date of birth, vaccination dates and vaccine type.
You may also continue to use your CDC card as proof of vaccination in addition to other possible options such as a digital or physical proof of vaccination from your provider/pharmacy.
How to get your QR code?
Opt into the Digital COVID-19 Vaccine Record portal at https://myvaccinerecord.cdph.ca.gov/
Just enter a few details to get a link to your personalized QR code and digital copy of your COVID-19 vaccination record.
If you want to share your proof of vaccination, you can use either the electronic version you'll get from the portal or the card you were given at time of vaccination.
If you are a parent or guardian and have multiple vaccine records associated with a single mobile phone number or email address, enter each digital vaccine record request separately.
The portal provides only a digital copy of your vaccine record. If you received your vaccinations from a federal agency (e.g., Department of Defense, Indian Health Services, or Veterans Affairs), you will need to reach out to those agencies for assistance with your vaccination record.
Click the link below to receive a link to a QR code and digital copy of your COVID-19 vaccination record:
https://myvaccinerecord.cdph.ca.gov/