California Housing Market Report & Predictions 2020
Posted by Lisa Levin on Monday, June 15, 2020 at 2:06 PM
By Lisa Levin / June 15, 2020
Comment

California's Housing Market Forecast
Why is the California housing market relevant this spring? It's all about opportunity for sellers, and how they can still command a good price for their home, condo or rental property. It's as resilient a form of asset as an investor can dream of.
The appeal of densely populated areas such as San Diego, Los Angeles, San Francisco, San Jose, and Sacramento almost never fails. And even as the Corona Virus pushes people into the surrounding regions, it's barely having any effect on home prices here.
The shutdown continues its devastation on the California economy, making the need for action from the California government so important. Of it's the same of any US state housing market and other consumer markets.
Buying Rental Property in California? Don't forget to check out ManageCasa property management software and how it can help manage your portfolio effectively.
Key Points
What is the key insight? Likely (opinion) is that the number of buyers is slightly down and more housing will soon be listed. Californians are struggling with the pressure of unemployment and this may loosen up houses for sale over the next 3 months. Yet home sellers won't have to sell at a big loss!
It might be time to contact your Realtor if you are a qualified buyer.
What's the most meaningful stat? This one below. Despite the most devastating economic shock possible in the last two months, house prices are still holding. Will home prices climb like previous years?
With Bay Area businesses asking workers to work from home, commercial real estate and condos in the San Jose and San Francisco regions could see plummeting rent prices. But will house prices here fall?
The April sales data for the California housing market shows sales and listings down strongly with home prices remaining about the same as last month. As business opens up, more housing stock will be listed and prices may come down (boosting supply which naturally eases ask prices).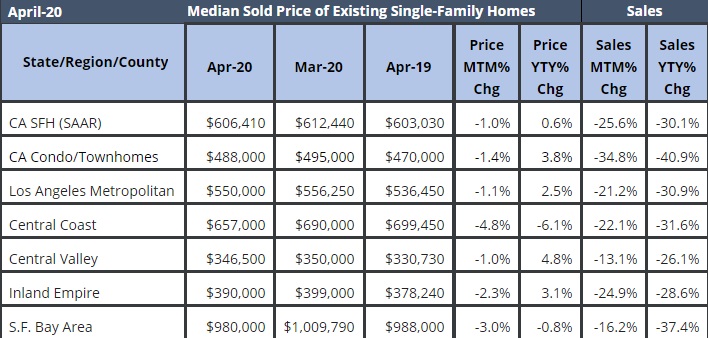 Price Remain Stubbornly High
However, home prices in California are very high given the sad state of the California economy at present. The upward price trend is much steeper than experts would expect.
In fact, sales were at their lowest since 2008. April's homes sold totalled 277,440 units which is well down from March's numbers. CAR notes that the Bay Area suffered a particularly steep decline, down 37.4% YoY. And in So Cal, sales plummeted 30.2%, while in the Central Valley, sales fell 26.1%.
Pending sales due to the stay at home orders, plummeted 43%. Home showings dropped steeply in mid march and while they are increasing, they're still well less than April 2019 numbers. We can finally see the steep effects of the Corona Virus shutdown recession.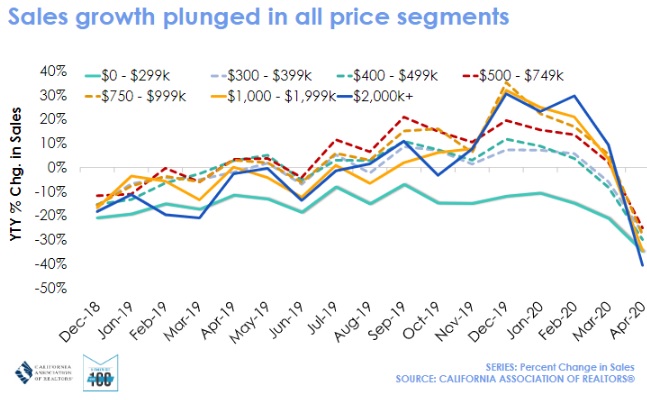 Such a shame to see a very strong run this last year, comparable to the 2015 boom end. Even if sales are subdued the rate of growth in the next 6 months will be surprising.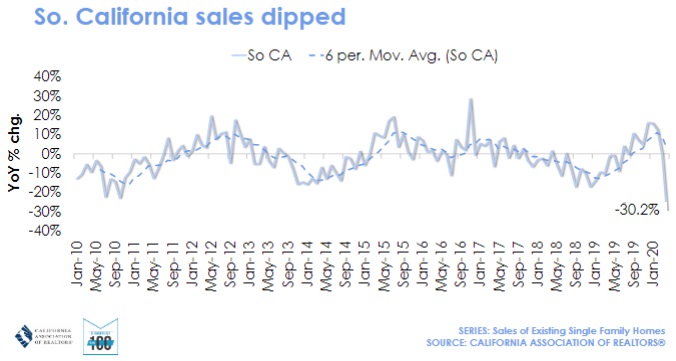 California home prices declined very slightly from $606,410 which was down 1% from last month. Fewer houses being listed and shown would mean lower selection for those home buyers eager to buy. Buyers and sellers turned to online sales channels to show and sell in April.
The median condo townhouse price in California rose slightly to $488,000 from last year's price of $470,000.
The sales price to list price ratio is a meaningful stat showing sellers are getting their price.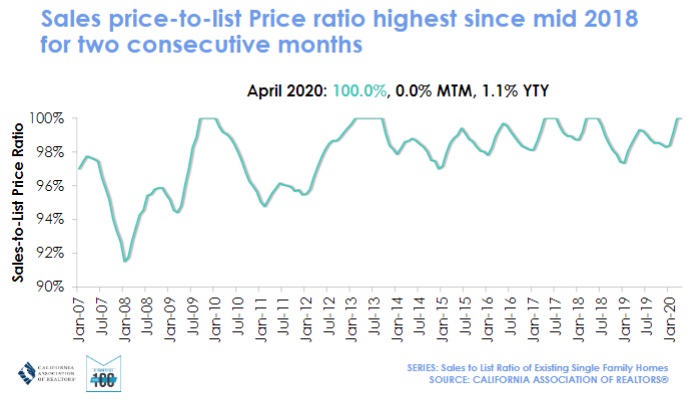 New Update for Corona Virus Period
Jordan Levine, Deputy Chief Economist with the California Association of Realtors® feels the housing market bottom is appearing. Now with the economy reopening, we'll begin the phase of disillusionment as workers (young home buyers) realize they may be unemployed for a while.
There's still optimism that a vaccine will arrive by 2021. In the Video report a couple of days ago, Levine says the next 5 to 8 weeks will be tough and the 2nd quarter could be down 30%.
Economic Data Depressing the Market
Consumer confidence has suffered a deep drop as this chart shows below. Levine says we haven't seen how low this number could go. Consumers were carrying the economy, however the aid package from the Feds is several Trillion dollars with perhaps more coming. If the return to work goes well, we should enjoy a steady return of the California housing market in the remainder of the year.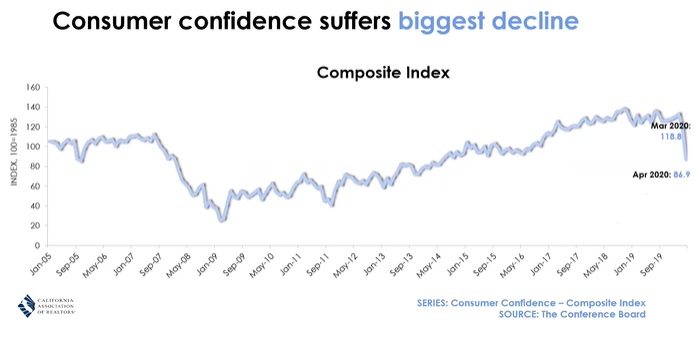 GDP Forecasts are All over the Place
US real GDP growth was down -4.8% in the first quarter. Of course job losses have been significant, and there is doubt as to how quickly workers will be back on the job, and how many won't be hired back. The good news is a big decline in new unemployment claims. Unemployment will be the heaviest weight, perhaps eliminating new young buyers from the market.
US major banks have reported wildly different views about GDP over the next 6 months and in 2021 (4.8% to 30% range for 5th quarter growth outlook).
Sellers Withdrawing Homes and Buyers Backing out of Deals
Even as we enter May, CAR's surveys show homeowners are still withdrawing their homes from the market. And 85% of buyers are backing out of potential deals. However, it appears uncertainty is easing.
CAR's consumer buyers believe it is a very good time to buy a home. Only 29% believe it's a good time to sell a home in California. Delays in closing are the big issue as buyer loan funding is seeing big friction. Median escrow time is now 33 days.
The most recent stats about loan applications shows California mortgage applications are coming back very strong the last week. Mortgage applications to purchase a home rose 6% last week from the previous week, according to the Mortgage Bankers Association.
CAR's Jordan went on to draw comparisons to the 2008 recession, but the old data relates poorly since the economy, optimism, inflation, and interest rates were much different then.
The bottom line is that there has been a record level of optimism among consumers and it doesn't look like Corona Virus can crush the spirit of Californians. They will be back buying homes across the cities and state.
California's Rental Market
Zumper reported that all west coast rental markets were trending downward. Their survey found 67% of renter respondents were financially impacted from the pandemic. Of those impacted, 35% lost their job or received a pay cut.
See more about the rental markets.
Housing Market Forecast
Car predicts a J-shaped economic recovery extending over the next 12 months. Of course this trend will affect home prices in the coming 6 months.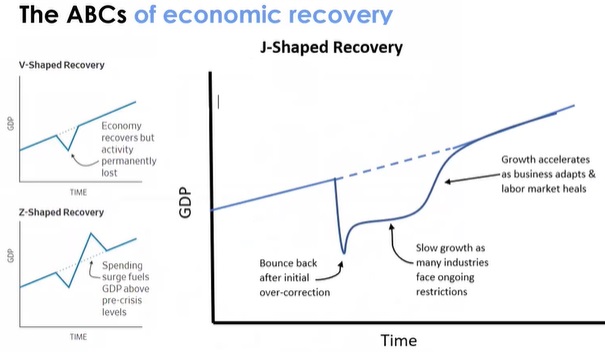 Small Towns and Cities Seeing More Interest
With workers trying work at home arrangements,we may see more workers able to move away from high rent neighborhoods, perhaps even out of California. Employers are more accepting of the need to work at home, and one major real estate service CEO (Redfin) reported that demand in smaller cities is higher than in major cities.
Zillow Forecasts for Home Prices
Zillow reported in its latest release that home prices are expected to fall slightly for the rest of the year. They're expecting sales to drop considerably. Their forecast of a 1.1% drop in price might be good news for Millennials in LA, San Diego, San Jose and San Francisco who are hoping to take advantage of historic low mortgage rates.
However, that's not dampening the spirits of hopeful buyers in California. 48% of Zillow survey respondents said it's a good time to buy.
This strong pickup in interest in homes for sale lately within San Diego, Oakland, San Francisco, and Los Angeles is a little shaky, however the trend is visible. Google Trends reports the search volume for homes for sale within California.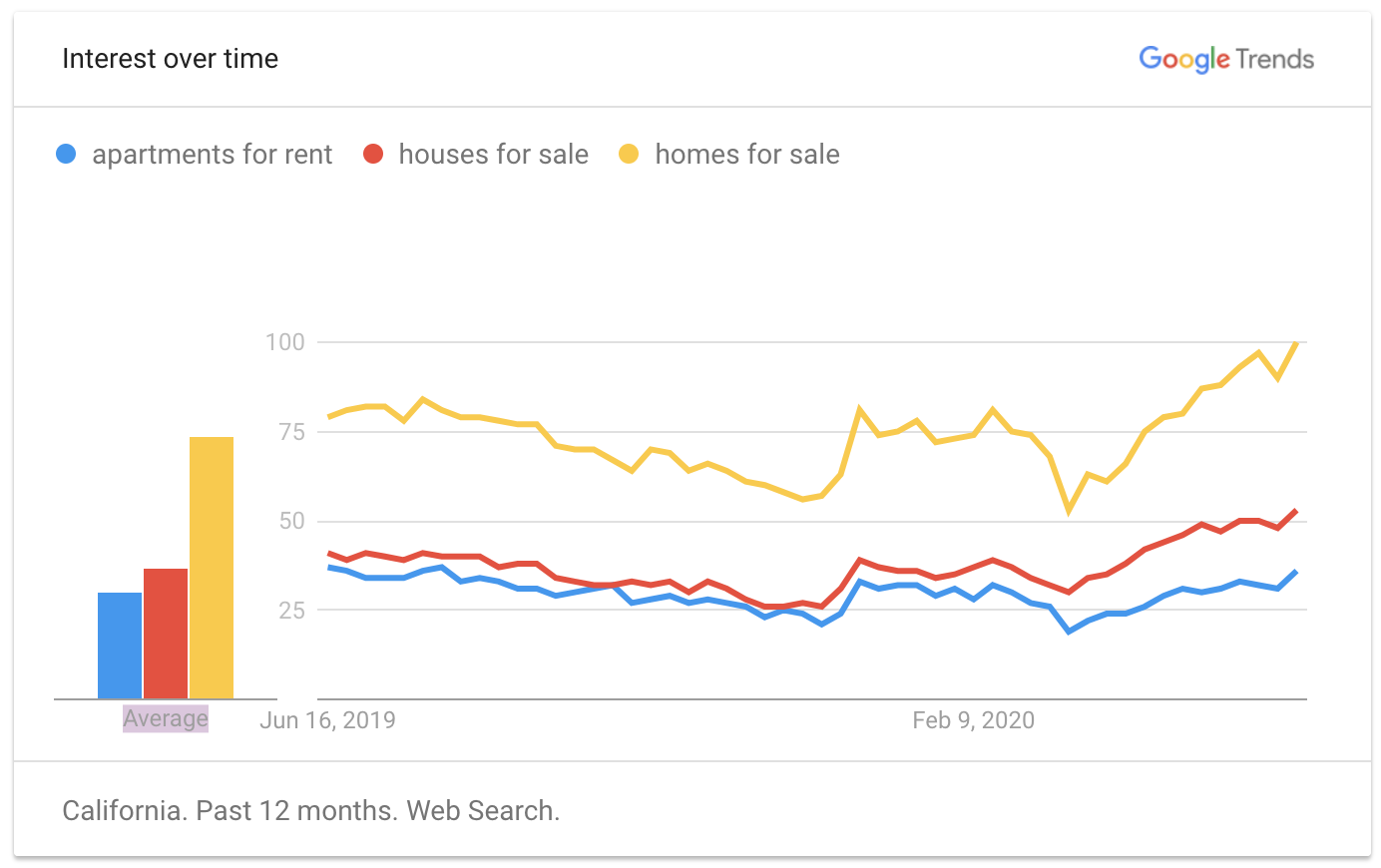 Booming Online Software Solutions
The new residential and commercial housing market in California has changed. Renters and business owners will seek layouts and buildings with room. The 6 foot social distancing mandate makes crowded spaces a big problem.
Realtors and property management pros are already testing out online maintenance scheduling and rent payment solutions. ManageCasa's state of the art property management software integrates the global payment leader's platform is the industry model. This might be the right time to make a platform switch. Check out online payments now.
How Far Could Housing Prices Fall?
How far will home and rental prices likely fall? Experts seem to be of the opinion they won't drop far. It would take an extended period before buyers give up, and where mortgage defaults occur. New construction was rolling along nicely, but this may have slowed.
China's battle with Covid 19 is coming under control. They're reporting few new cases of the virus. If the US follows a similar timeline, it might be only a month or two until the disease passes. But no one's sure. Reports of 80,000 jobless claims in one day in California is alarming.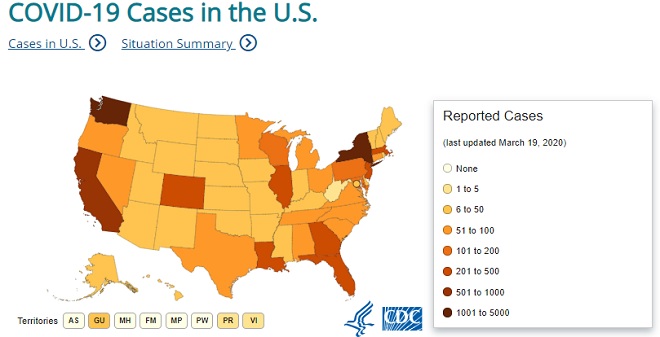 CAR's California housing market stats for February are out. Seems like it's all in the rear view mirror now, but demand was strong and that might tell us that when the Covid 19 pandemic is done, California's markets will come alive again.
"As the coronavirus pandemic worsens, the housing market is expected to decline precipitously in the coming months, particularly in counties and cities with a shelter in place mandate" said 2020 C.A.R. President Jeanne Radsick
Home prices grew at a solid rate across the state, particularly in the Bay Area.
This updated report covers important stats including home prices, sales, and recent home sales trends from CAR, NAR, DOT, St Louis Fed, NAHB, Statista, Zillow and more.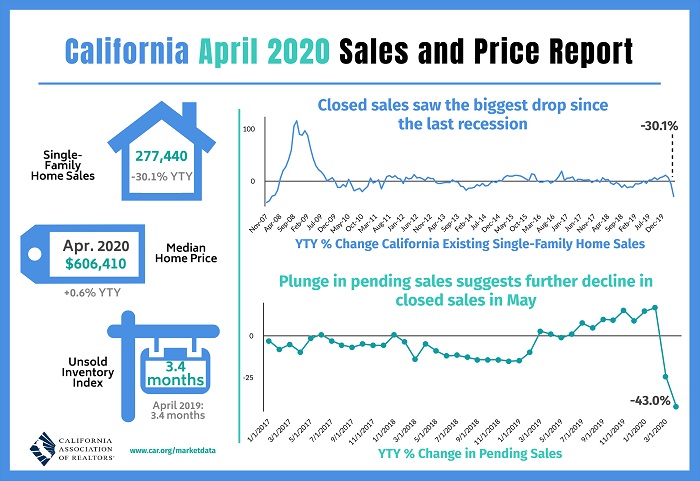 California Home Prices
San Francisco County saw it's hot sales numbers return as buyers mood shifts quickly. Housing sales grew 19.3% month over month and just under 1% YoY. The Median San Francisco county home sold for $1,610,000 which is up $150,000 since last month.
House prices in SF dropped an astonishing $150,000. Marin, San Mateo, and SF counties suffered the worst price reductions of 17.1%,7.5% and 10.4% respectively.
San Diego county home prices grew 1.5% during the month and that's up 7.2% from last year. The median price rose $10,000 to $670,000 and this is well up from last years median price of #625,000.
Sales in NAPA fell strongly 32.3% while prices fell on 5.4% month to month, and that's down 37.3% YoY. Contra Costa home prices rose 3.5% month over month yet that was still down 2.2% from last year. Home sales in Alameda country rose 8.0% and prices there rose 9.9%. Sales grew 1.1% but were well down from last year by almost 16%.
Although mortgage rates have fallen, down payments and mortgage payments are on the rise. Down payments are up 10% in Los Angeles and 10.3% in San Francisco.
The Real Story of California's Real Estate Market
The real story of California's housing market is a persistent lack of supply, something that may never be remedied. This means overall home prices and perhaps rent prices might flash up later in 2020. And this is despite recent high home construction numbers reported across the country.
Active listings fell again in February with huge drops in Southern California (26,779 listings last year compared to 17,868 listings this year. Unsold inventory ticked slightly to 3.7% in So Cal and 3.0% in the Bay Area.
NASDAQ has fared better than other stock markets of late which means the tech sector is more resilient to global goods trade and work shutdowns in California. Unemployment is likely much higher than the 4.1% previously.
Yet homelessness and extreme housing costs are making life tougher for most Californians, particularly rental tenants. Housing construction restrictions and other regulations are weighing very heavily on the quality of life in the Golden State and raising rent prices.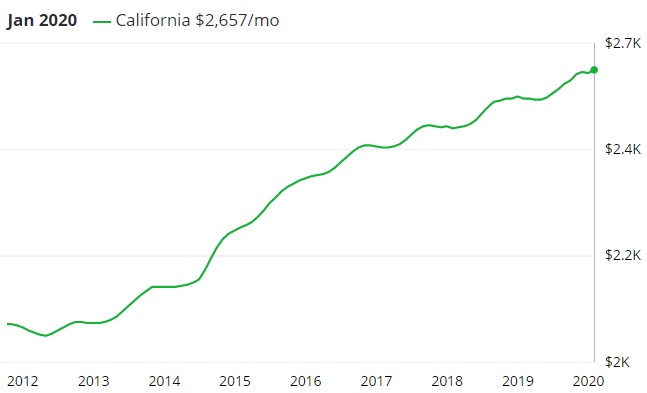 In what some expert economists forecast to be bearish times out west, it seems it's going okay though. If some projections of a growing US economy from 2020 onward come true, home prices may roar higher in 2020. Zillow still believes prices will climb 4.9% over the next 12 months.
Jobs Report is Dim
The California jobs forecast is a tough one. With unemployment rising 15.5% in April, we can see it hitting 20% before beginning to recede. Farm labor will be in short supply affecting crop production for 2020.
According to a report from Mercury News, 246,100 workers filed initial claims for jobless benefits in California last week. After falling claims, this is up 165 from the 212,700 who filed week ended on May 9.
Click Here for more information
Receive A Free Market Analysis