8 Expert Tips to Attract Buyers with Listing Photos
Posted by Jeff Biebuyck on Friday, October 8, 2021 at 6:00 AM
By Jeff Biebuyck / October 8, 2021
Comment
8 Expert Tips to Attract Buyers with Listing Photos
A picture is worth a thousand words. The saying stands true in the world of real estate as well. For every potential buyer looking at your listing online, visual factors like aesthetic photos play a crucial role in garnering interest. Remember, the photographs you share are the first impression they gather about the home.
Below are 8 expert tips to make your home's listing photos attract scores of buyers:
1. Eliminate distractions
Enhance your listing photos by de-cluttering the space. Distractions can snatch away attention and make it seem unprofessional on your part. Clear out space so that the buyers can focus on the furniture, appliances, layout, flooring, and other crucial deciding factors. If you lack storage space, consider renting a unit.
2. Plan for staging
Staging is an illustrious way to help buyers build a connection with your listing. Market your real estate photos for the clients to imagine themselves living there. Staging is all about making it look appealing by rearranging furniture, placing flower vases, repainting the walls, setting the dining table, etc.
3. Be careful with props
Avoid clichés like wine bottles, glasses or candles since they scream overdone staging. Instead, aim to make the space look natural, clean, and homely. Pretty white orchids, simple greenery, a fur throw are easy and inexpensive props that resonate well with buyers.
4. Highlight the best features
Another way to enhance listing photos is by highlighting recent renovations, a beautifully crafted kitchen, outdoor pool, fireplace, unique exteriors, or patio space. Make sure to round out the best features to brief the photographer in advance.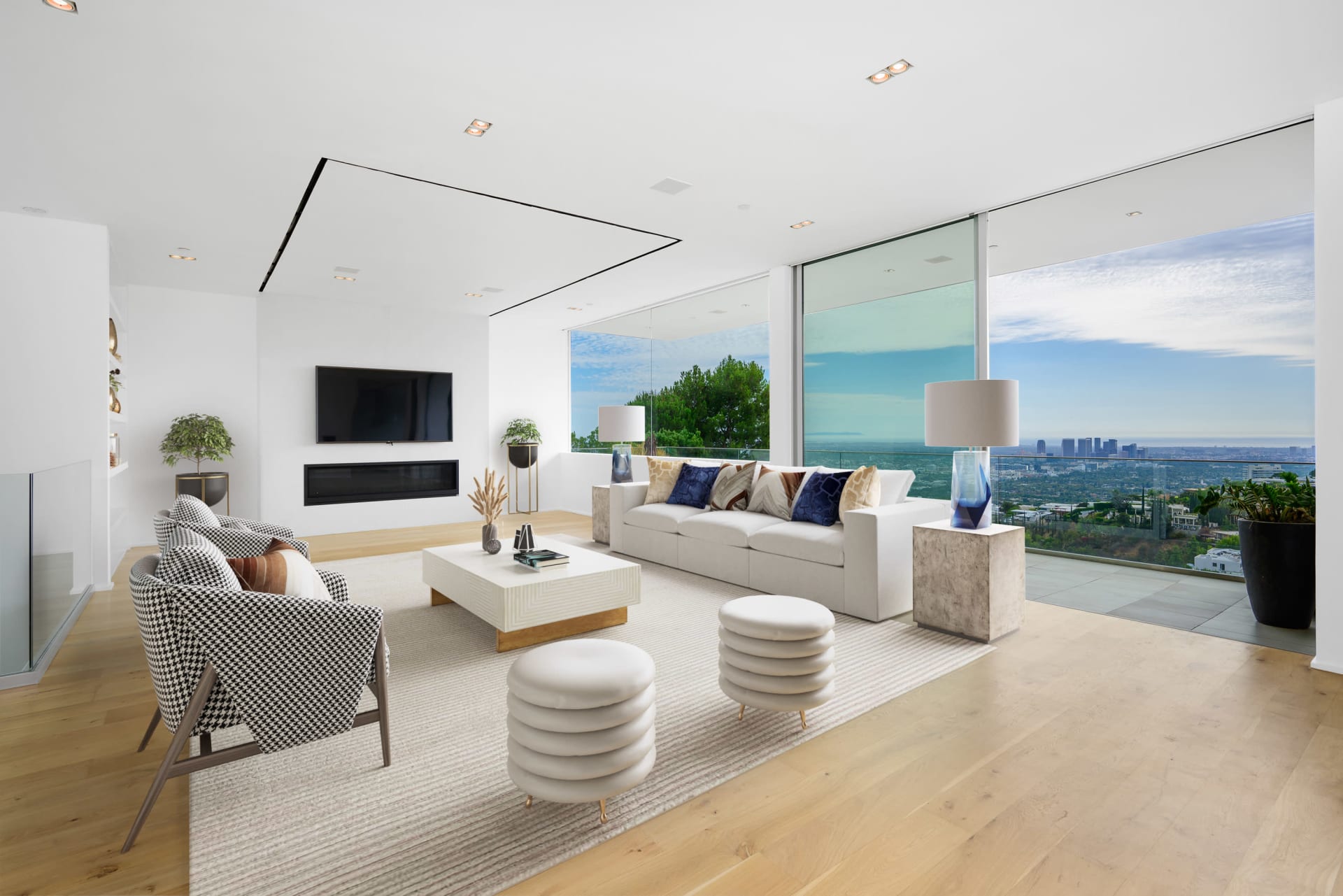 5. Click photos from corners
Use this pro-tip to click perfect pictures of the spacious rooms so that clients can see all additional features in one frame. Study the landscape properly to choose an angle that serves the best lighting and view of the rooms.
6. Avoid common photo blunders
Keep the toilet seat lids closed in your bathroom shots, switch off the TV to minimize distraction, move vehicles to clear the driveway, and analyze the rooms thoroughly before taking photos. These are small yet essential ideas to make your listing photos withstand the competition.
7. Clean windows
Your real estate photos automatically stand out when you offer more information to the buyers, such as the exteriors to highlight the surroundings. Clicking pictures in natural light makes everything additionally appealing. Clean all the windows thoroughly to show off outdoor views and emphasize the natural light.
8. Hire a professional
If you are still unsure, this is a wise decision. Set your budget to hire an expert photographer. A set of professionally shot photos can improve the chances of your listing getting noticed manifold. You also have a choice of clicking pictures yourself and outsource the image enhancement, selection, and retouching to the experts. This makes your listing photos look visually appealing for the buyers among a hoard of other sellers.
Give these tips a shot to collect some of the best listing photos and ultimately improve sales!
Frontgate Real Estate | Dana Olmes & Jeff Biebuyck Group
23500 Long Valley Rd
Hidden Hills, CA 91302
(747) 888-0508
For more home staging tips and resources, visit www.styldod.com