Jamie & Kim Talbot
Estate Agents, Sports & Entertainment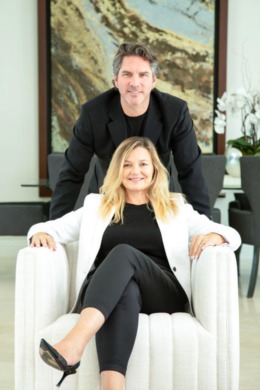 ABOUT JAMES
Originally from Toronto, Jamie was a top ranked Canadian junior tennis player who came to Southern California as a teenager to pursue his dream of becoming a professional. Upon graduating from UCLA he turned pro and achieved a world ranking on The ATP Tour, exemplifying his natural competitive drive. 
After traveling the world as a professional athlete he transitioned his passion into the music and entertainment industry where he worked with both multi-platinum icons (Fleetwood Mac, ZZ Top, Guns'N' Roses, Filter) and breakout artists, (Velvet Revolver, Dilated Peoples, American Idol's) demonstrating his proficiency for working with varied personalities. During his time in the industry he also helped manage the business legacies and estates of some of the biggest names in music (The Doors, Janis Joplin, Ramones, Otis Redding) as well as co-producing/executive producing music centric films and video projects. (Sunset Strip, Radio Caroline) 
After leasing, purchasing and selling several properties alongside many of his entertainment clients as well as making numerous key referrals to Dana and Jeff, they asked him to join their team. His experience managing, advising, guiding and supporting clients on their careers, business's, estates, investments and lifestyle, has made this move a natural evolution for Jamie. Dana (Olmes) and Jeff (Biebuyck) are consistent top producers, ranking among the elite 1% of agents in the country and their clientele is composed of a wide mix of influential industry leaders from the corporate, entertainment and tech sectors as well as celebrities and athletes. 
Jamie has lived in the Greater Los Angeles area for over 36 years and is known for his fierce loyalty, integrity and dynamic people skills. He has built up a strong reputation amongst those who know him and his work ethic is well known within the industry and beyond. 
Utilizing the latest technology and marketing strategies as well as having the support of one of the best teams in the business, Jamie promises to leave no stone unturned in being your best alliance in the real estate process.
ABOUT KIM
I am very excited to announce that I have joined the Sports and Entertainment Division of Dana and Jeff Luxury Homes at Compass, where I am working along side my husband Jamie Talbot.

Many of you know me from my event planning background or from various high profile entertainment projects I have worked on. What some of you may not know is that I also have extensive experience working along side my family who are luxury custom home builders. My history of designing and building houses, as well as staying current on design trends and costs, lent itself to Jeff (Biebuyck), Dana (Olmes) and Jamie asking me to join their team. A move that was a natural evolution for me.

With over 25 years executing amazing events worldwide, as well as consulting on various entertainment, sports and media projects. I am enjoying merging my passions together on this new journey.

"It was very apparent from day one that Kim would make an amazing real estate agent. Her experience, knowledge, work ethic, and personality are a perfect fit for our team and we are extremely excited to have her on board" Jeffrey Biebuyck

"Kim is someone I have known for years and we are very fortunate to have her join us here at Compass. Her background is perfectly suited to cater to clients needs and understand the market place. She is dedicated, passionate and brings with her a wealth of knowledge and relationships that will greatly help our team. We look forward to her future." Dana Olmes

Currently, I am based in the Compass Calabasas office with additional locations in Hidden Hills, Westlake Village, Malibu, Beverly Hills, Montecito, Santa Barbara, and Palm Springs.

I am bringing the same dedication I have always had to each and every client to be your best alliance in real estate. I look forward to helping you or someone you know, buy, sell or lease a home. I passionately promise to help you find your place in the world.