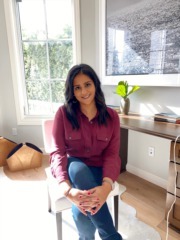 Navin Megji is a born and bred Angeleno and an entrepreneur with a love for design, architecture, and a passion for customer service. She began her career in the fashion industry, becoming the owner and operator of high-end clothing boutiques on the Westside at the tender age of 23. After working with designers, tastemakers, and editors across several media channels, Megji went on to consult for several wholesale and technology start-ups.
It was her love for customer service, and knowledge of LA's unique neighborhoods that lead her to venture into Real Estate. With her ambitious attitude and entrepreneurial spirit, Navin aims to provide the utmost in care and professionalism to both her past and present clientele. Specializing in single-family homes, condominiums, and investment properties, Navin has become fluent in many areas of real estate representing both buyers and sellers throughout the West Valley and Westside of Los Angeles. .
Navin is a graduate of The Annenberg School of Communication at USC, and grew up with strong family roots in Southern California. When she is not scouting for off-market properties, you can find her at a westside Soul Cycle or sampling the perfect Gin martini at a new LA restaurant.