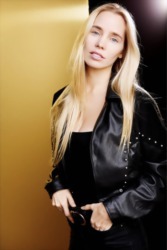 ABOUT LINNEA 
Linnea is a Norwegian celebrity real estate agent who has sold over $24 Million in her young career across
Malibu, West Hollywood, Calabasas, Santa Monica, Hollywood Hills, the wider Los Angeles area and Palm
Springs. She has been featured in TMZ, Variety, LA Times, The New York Times, The Real Deal, Daily Mail
and Inman.
Known for her passion and diligence, Linnea Dubravac brings enthusiasm and European flair to FrontGate
Real Estate.
Linnea was selected as a Rising Star by the Los Angeles Business Journal Women's Leadership Awards after
selling over $23 Million in her first three years of Real Estate.
Born and raised in Norway, Linnea's international expertise and fluency in English, Norwegian, Swedish and
Danish make her an asset to a wide-ranging clientele both stateside and abroad. A patient and attentive
advocate for her clients, her mastery of the transaction and contract-writing process, expert negotiating skills
and a strong command of the Westside market establish her among L.A.'s most talented agents.
Prior to moving to the states, she enjoyed a career in modeling that took her to the catwalks of London, Paris,
and Milan, after which she pursued a new challenge in the financial field as an analyst at HSBC and Lloyds
Bank of London.
Linnea enjoys hot yoga, film and TV events, traveling, spending time at the beach and is always on the lookout
for new, healthy food spots and natural health trends. She is involved with The Sierra Club Foundation and
BuildOn charity.
At her young age, she has already become a Real Estate investor, with properties in Calabasas and Palm
Springs.
Linnea is married to Sean Dubravac, owner of Entertainment Lab, a bi-coastal (Beverly Hills & Manhattan, New
York) talent management and production company, and is proud to count industry insiders, actors, writers,
directors, and producers among her loyal clientele.